In this week's list of recalls, we have two somewhat goofy ones and two from Mopar. In the goofy category we have Nissan's "collapsing" ignition keys (2014-20 Rogue, 2017-22 Rogue Sport) which can stall the car; and we have Dodge Durangos (2021-23) whose rear spoiler may fly off while driving.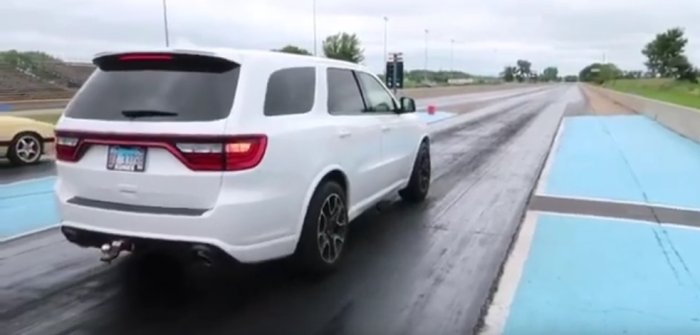 Spoiler recall on Durangos might or might not affect this ten-second Hellcat, which is about to outrun a car on the quarter mile track
The Durango recall is #23V115, and the problem is that the spoiler may have been installed "overflush" to the roof so that when the liftgate is opened, it can hit the roof and eventually come off. There have been 56 warranty claims. Only around 1% of the 139,019 2021-23 Durangos with that spoiler are believed to have the problem, so it's not common, but dealers will happily inspect your Durango. (The issue only affects vehicles made from October 24, 2020 through February 16, 2023.)
Chrysler does have a second recall, affecting Jeep Wranglers and Gladiators; in this case the clutch pressure plate may overheat on 2018-23 Wranglers and 2020-23 Gladiators with manual transmissions. The recall affects 69,201 vehicles—Wranglers made from August 23, 2017 to February 16, 2023 and Gladiators made from December 21, 2018 to February 16, 2023.
The clutch pressure plate's overheating could cause it to fracture, blowing holes into the transmission case and expelling "heated debris" which could cause a fire or injure people outside. The problem may also appear as a clutch odor or clutch slipping. The clutches were made by Schaeffler. There have been 36 warranty claims so far, according to the company.
Jeep reported that the part was not defective but that the design specification was the issue. There is no remedy right now; it's under development, with an estimated notification date of mid-April 2023.
Other mainstream car/truck recalls announced in that week included blower motor fires in 2019-20 Sprinters; bad airbag deployment in 2022 Sprinters and 2022 Rivians; alternators that catch fire in Polaris Slingshots; displays that go blank in 2022-23 Toyota Tundras; stalling in Lordstown EVs; doors flying open in a crash in numerous 2022-23 BMWs; incorrectly installed replacement airbag inflators in 2004-06 Ford Rangers; and second-row seats not attached correctly in 2022-23 Tesla Model Ys. It was a busy week for NHTSA.