This morning, Ford Motor Company introduced the 2021 Ford F-150 Raptor, the truck which will serve as the key competitor to the Ram 1500 TRX. Many Ford fans insisted that it would be powered by the supercharged V8 from the Shelby GT500 Mustang. Those Ford fans were sure that the Raptor would have upwards of 725 horsepower, allowing it to comfortably overpower the TRX and reclaim its spot atop the list of the world's best performance pickups.
However, it didn't pan out like that for those Ford fans. The short online reveal of the 2021 F-150 Raptor really didn't tell us anything, but with the press release from Ford, we learned that it will still be powered by a twin turbocharged EcoBoost V6. Ford stated that the 2021 Raptor will have more power than the outgoing version with the same basic engine, but the company didn't share the new power numbers. However, we can bet that the 3.5-liter V6 won't be modified to the point of delivering anywhere near the output of the TRX, so with 702 horsepower and 650 lb-ft of torque, the Ram is still the apex predator of the truck world.
As a result, the many Ford truck fans who have been flooding Ram social media groups, rambling about a 700+ horsepower F-150 are left disappointed and looking foolish. As for the V8-powered Raptor, Ford says that it is "coming next year", so F-150 fans will have to wait a year or more to get their hands on a factory-built truck to challenge the Hellcat Hemi-powered Ram.
2021 Raptor Changes
For those wondering, the 2021 Ford F-150 Raptor does feature some new components, such as a stiffer frame, optional 37-inch tires and new suspension bits, including a five-link rear coil spring setup. The Ram 1500 was the first truck to make the jump from rear leaf springs to rear coil springs and some folks from the Ford camp were critical of the move to the then-unconventional springs. However, here we are a little more than a decade later and Ford has followed suit, installing coil springs on the rear of the Raptor. For more information on the newest Raptor, check out this piece from our friends at TorqueNews.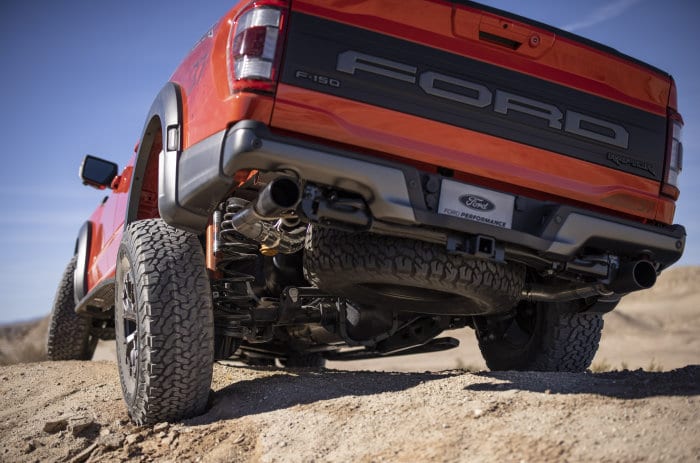 It should be noted that Ford is making it clear that the Raptor is the "original desert truck", so perhaps the F-150 has a clear advantage over the Ram 1500 TRX in specific conditions. However, in most conditions – including every situation in which I drove both the current Raptor and the TRX – the Ram was the superior off-road performance truck.
The bottom line here is that the 2021 Ford F-150 Raptor has been introduced and the 2021 Ram 1500 TRX is still the apex predator of the truck world.