The Dodge brothers generally didn't make trucks; they made cars, and the Graham brothers turned some of them into trucks. Chrysler, acquiring both companies, focused on Dodge for the truck market, which was still too small for more than one corporate brand (Fargo, the Plymouth truck division, was relegated to export duty).
Dodge made four wheel drive trucks for the Army starting in 1934, stepping up its game for World War II when the United States started building up its fleet. General Patton preferred the Dodge trucks to any others, demanding all the Dodges he could get for his Red Ball Express.
After the war, former soldiers wanted to buy durable Dodge trucks for farm, forest, mine, and such; Dodge responded by selling civilian versions of their wartime trucks. One of those was their one-ton truck, internally dubbed "Farm Utility Truck" in 1945; in January 1946, when Automotive Industries announced it, the new name was "WDX General Purpose Truck." That was downrated to the even blander "General Purpose, One Ton Truck" briefly; but, finally, in March 1946, Dodge started to call it the Power Wagon.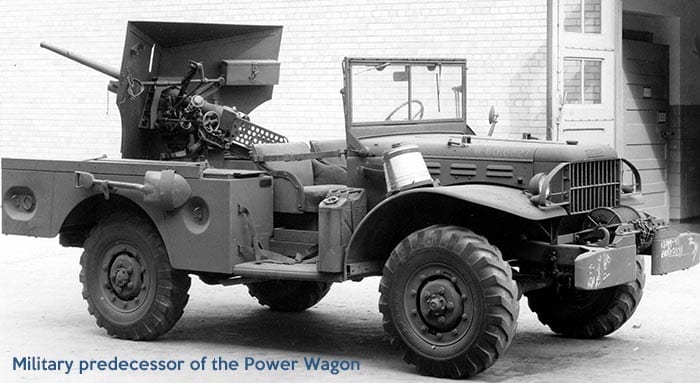 The Power Wagon started and ended as a one-ton pickup powered by a flat-head six-cylinder engine, using a 1939 pre-war cab (also used on wartime trucks and the light-duty 1946-47 Dodges). The cab's floor was apparently all that had to be modified, to avoid hitting the transmission. Wheel mud guards were standard for the time, across automakers, because they were more effective than modern, rounded fenders. Front styling was altered from the main wartime fleet to a design adapted from a heavier-duty Dodge truck exported to China, which also inspired Chinese "Red Army" trucks. The beds, with their black-painted wood and steel skid strips, were taken from the 1939 Job-Rated pickup series, and were kept to the very end.
Dodge itself reported, "We styled its appearance to be pleasing, but with rugged design points to showcase the driving units, such as the engine, clutch, transmission, transfer case, front and rear driving axles, which all remain the same as were introduced on the military versions."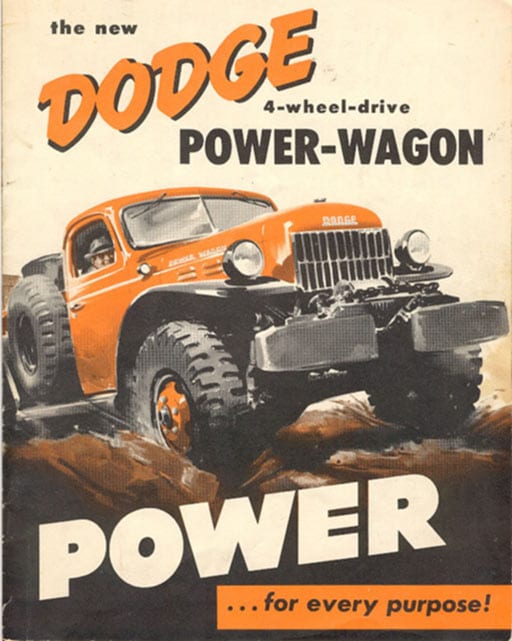 At first, engineers tried using the standard one-ton box, but they felt the low sides and overall shape was wrong; so they created a unique box, at least four feet wide through its length, and four and a half feet wide away from the wheel-wells. The walls were higher than usual, with 20 inches of depth; it was eight feet long, but if more length was needed, the tailgate had a center support to deal with a hefty weight load. Other Dodge pickups of the day maxed out with seven-and-a-half foot long cargo boxes, and even the nine foot pre-war box was narrower and shallower. The truck boasted a gross vehicle weight rating (GVWR) of 8700 lb and a payload of 3000 lb.
The 1946 model had a 230 cubic inch flat-head six-cylinder engine with compression of just 6.7:1, producing 94 gross horsepower at 3,200 rpm with 185 pound-feet of torque, measured at 1,200 prm. Despite the size and weight of the truck, only a single Stromberg downdraft carburetor was available, possibly to simplify the governor. Bore was 3 1/4 inches, and stroke was 4.625 inches. The flat-head engine was actually more powerful than many competitors, and it was durable and inexpensive to repair. It was also built up from car-engine standards, with items such as chrome piston rings, stellite sodium valves, and valve rotators. Electricals were on the 6-volt standard for many years.
The power takeoff was mounted on the left side of the transmission, operating at 61% of engine speed (47% of engine speed when going in the opposite direction), and was controlled from a lever in the cab. When using the power takeoff, the engine could be set to stay at a particular speed using an optional mechanical governor, driven from a pulley on the water pump shaft, with the speed set in the cab.
Four-way drum brakes had 14.5 x 1.75 linings covering 210 square inches; the handbrake operated a common drum at the back of the transfer case, with 48 square inches of lining area. The clutch was a single-plate design with a 10-inch disc and pre-lubricated ball release bearing. Springs were semi-elliptical, front and rear, with 11 leaves up front and 14 in rear. The axles were "banjo style," with a full-floating hypoid design.
A Fargo version was exported, mainly to Canada, under the same name. As late as 1978, indeed, the Dodge, Fargo, and DeSoto Power Wagon was being shipped to foreign lands. Israel made their own version, under license. All Power Wagons were made in Warren, Michigan, at the "Dodge City" truck complex.
The Power Wagon was the jack of all trades of industrial equipment; highly mobile, it could go just about anywhere, while the optional front and rear power takeoffs and, eventually, a power rear lift made it useful in any number of fields. For forestry, the power takeoff could power a winch or heavy-duty saw; while the lift helped with dragging trees. Around the farm, the truck could double as a tractor and portable power source, operating pumps or diggers as needed. Utilities could use it to operate post-hole diggers and then to install poles. They were mildly popular as fire trucks, and were used in numerous industries for all sorts of purposes; in later years, they faced stiff competition, though, from custom-designed vehicles, though they stayed popular in forestry.
The base price in 1946 was $1,627; by comparison, a one-ton WF21 Dodge pickup ran just $1,115 with a nine-foot bed. Dodge sold just 5,450 Power Wagons in the first three years (1946 through 1948). There were no other mass-produced 4×4 pickup; the old Jeffery Quad had been made in small numbers by small teams. The Willys 4T did join the Power Wagon around a year after it started production, but it took other automakers a decade to catch up.
The 1947 Power Wagon added electric wipers and a 10,000-pound winch, along with little driver luxuries—a sun visor and armrest for the driver, and a dome light and heater. In 1949, Dodge switched transmissions to a heavy-duty spur-gear four-speed, still manually shifted; and in 1950, the winch was changed to a 7,500-pound capacity model with 250 feet of cable and a safety brake (winches were powered by the power takeoff unit). The engineers also swapped in a four-blade radiator fan, instead of the old six-blade.
One new option, presumably based on customer input, was a 500-pound-capacity hydraulic lift for loading accessories; the control lever was in the cab, and it was powered by hydraulic lines from the front of the truck, with a control valve in front of the radiator. Four new attaching points for equipment also made it easier to use Power Wagons for work.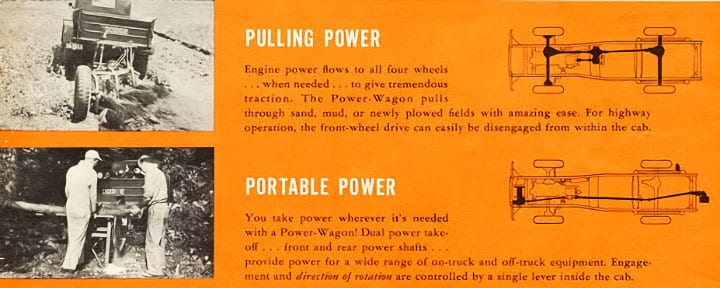 By 1950, 9×16 tires on 16×6.50 wheels were optional; both setups used mud-and-snow tires. Colors for this year were red, blue, green, black, yellow, and gray; the 5.83:1 axle was standard, but a 4.89:1 axle was optional.
For 1951, Dodge made numerous changes, modernizing the Power Wagon and applying lessons learned from other vehicles to it. Changes included a new bed, higher axle capacities, rubber mounts for the engine, cab, and box, a revised transfer case mount which improved the angle with the propellor shaft, spark plug covers to ward off the elements, a higher-flow fuel pump, and Cyclebond tapered brake linings; they also started anodizing the brake cylinders. Axles were now rated at 3,750 lb (front) and 6,500 lb (rear). Finally, the company finally switched to civilian-style instruments, from the military parts used earlier. A new heavy duty option added 1,600-pound front and 3,000-pound capacity rear springs.
For 1952, Chrysler switched to a new carburetor, with a new governor style; and in 1953 and 1954, they increased compression to match improved fuels, going to 7.0:1 in 1953 and 7.25:1 in 1954. The 1954 models also had a new version of the 230 cubic inch flat-head six, with a re-engineered manifold and longer-duration camshaft, which added five horsepower (bringing the engine to 99) at the same revolutions. The GVWR remained the same, 8700 lb; the base price was now $2,307, around $900 more than a typical half-ton rear-drive pickup of the day; production hit 5,601 for the year, topping the 1946-48 combined production.
12-volt electricals and higher compression (7.6:1) arrived in 1956, along with long-awaited power steering. The base price was now $2,499. For 1957, Dodge added power brakes and changed the starter from a key-and-button setup to key actuation. During this period, the mid-1950s, automakers were realizing that some of the styling and "luxury" trends of cars might also help truck sales; certainly, power brakes and steering made the Power Wagon an easier car to drive.
Coinciding with these additions, Dodge chose to dilute the Power Wagon name by using it for vehicles based on its standard V8 pickup trucks, starting in 1957; it would use the name on both groups of trucks until 1980. While some might wonder about the decision, Chrysler tended to play with name like that, creating "plain" 300 cars when the 300 "letter cars"  (300B, 300C, etc.) garnered a positive reputation, or making tame Furys when the hot Fury specialty car was a hit.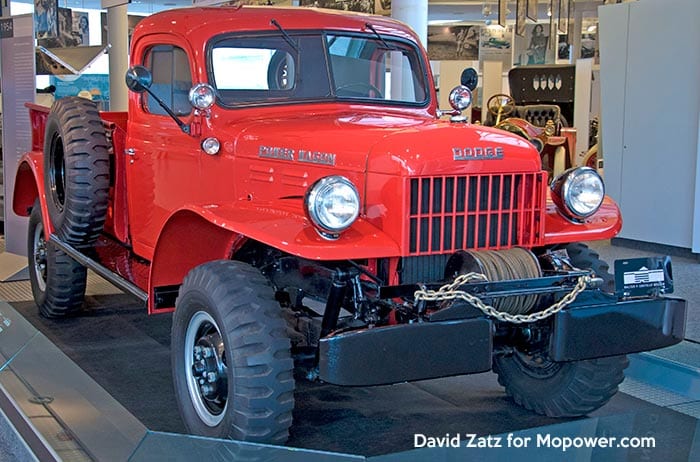 Changes to the Power Wagon slowed after 1957, not surprising given the niche sales. 1958 Power Wagon buyers could order a 10,000 pound winch again, and a Leece-Neville alternator, with more power than a generator, joined the option list; these were particularly popular for police and fire use. The 1961 Power Wagon acknowledged new expectations in engine power by swapping in a 251 cubic inch flat-head six (the company's slant six, released for 1960, was never sold with the Power Wagons). For 1961, too, Chrysler's own alternator, now in its second year, replaced the Leece-Neville model and the generator alike; it was standard on the truck.
The Power Wagon was otherwise unchanged, the truck was apparently dubbed WM300 "Military Type" for 1963 in marketing materials (it would alter resurface as the Power Wagon); other pickups now had a special version of the slant six, but Power Wagons remained on the flat-head standard. That was the last major change until 1967, when a dual master cylinder was finally added as a safety measure, long after it was on cars; the Power Wagon name had also returned.
The final year for U.S.-sale Power Wagons was 1968; the "military style" Power Wagon was not included in brochures. The Dodge W300 4×4 one-ton pickup (again, also dubbed "Power Wagon" ) started at $3,649, while the WM300 Series Power Wagon started at $4,295, a premium of $646—or 15% of the total price. The truck still had a four-speed manual transmission, with a 5.83:1 axle ratio. Wheels remained at 16 x 6.5 inches, while the W300 (one-ton 4×4) had 19.5 x 5.25 wheels, taller but narrower. The company made 2,461 Power Wagons, not including military vehicles (4,419 including military trucks).
The U.S. Forest Services had asked for an EPA exemption for the Power Wagon alone; but, given its inability to conform to pretty much any emissions rules, the ancient truck did not get one. The low sales could not justify moving to the slant six, and the cost of getting the ancient flat-head engines to pass emissions would be too high. The company had only sold 95,145 Power Wagons in the United States during their entire run, or around 4,200 per year; perhaps modernizing it just a little would have helped. Perhaps including it in truck brochures would have helped, too. Either way, it was the end of the road—in the United States.
Dodge kept on building WM300 Power Wagons for export, all the way to 1978, making whatever changes were needed (mainly determined by what parts were made for other vehicles); and then the last of the World War II-based pickups passed into history.
The name would live on, in regular 4×4 Dodge pickups, for a while; and then it would be reborn, in the 21st century, emblazoned on a heavy duty Dodge pickup with four wheel drive and stunning off-road capability. Once again, the Power Wagon lives up to the name—but the original remains something unique.