Bob Rodger died in 1971, of leukemia, at the height of the muscle car era. Among his contributions to Chrysler was the 300 "letter car" series, hailed by many critics as the absolute best Detroit had to offer—on part with just about anything in the world; and, for that matter, the 200-mph Dodge Charger Daytona. He also played a major role in the creation of the 426 Street Hemi.
Early in his career, he led a team which resolved a problem with premature cam wear on the original Hemi V8s. From there, he proposed building a world-class car around the new "FirePower" engines, something that could showcase its high power; his goal was to have a car with handling matching the straight-line performance, and a unique appearance. He was the lead developer for the new Chrysler C300 (named after its 300 horsepower engine, the first in a production car), as well as one of its instigators; and quickly became Chief Engineer of Chrysler.
His own 300C hardtop was a special order, a two-tone with charcoal gray over Regimental Red over gray; it had New Yorker side "chrome" (stainless steel) and chromed Fury-style sides as well. He specified a brass ring around the plastic 300 logo. The interior was smoke gray, with a special copper weave in the seat inserts. He had every comfort option, and an automatic transmission.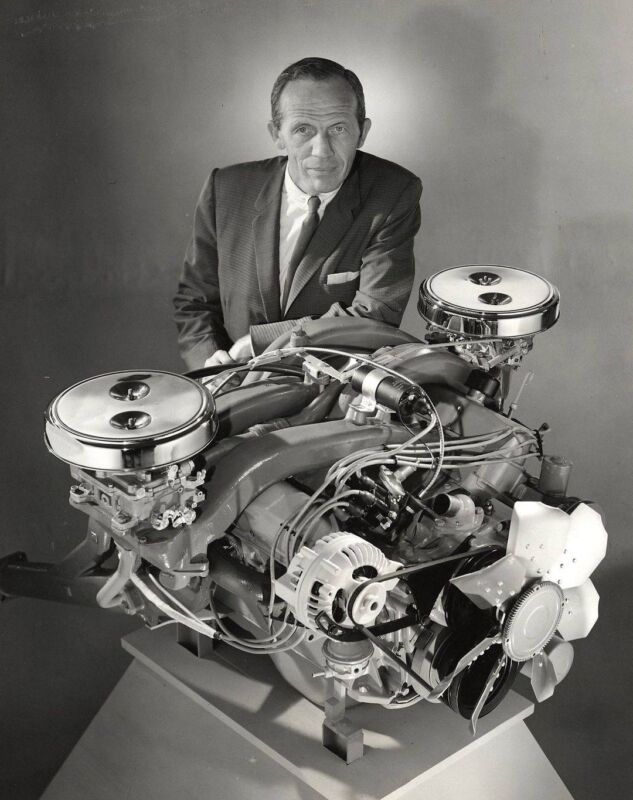 Bob Rodger and the 300J engine
In 1965, Rodger (as Special Car Manager) and Robert Cahill (Chief Engineer) wrote a letter outlining their proposal for a 426 Hemi in the midsized (B-body) cars; they proposed dual four-barrel carburetors, cross-bolted main bearing caps, and tuning for drivability in summer and winter alike. The goal was to have 5,000 to 7,000 sales per year. The Street Hemi first appeared in the 1966 B-bodies, but because of their high cost—around one quarter of the car's price—sales were lower than projected. On the other hand, the reputation boost from the 426 Hemi was astounding and remains with Dodge to this day.
Burt Bouwkamp, who became Director of Product Planning in 1968, across all car lines, was one of Rodger's employees in his earlier years; in 1968, he became Rodger's boss. "I tried to be as good as boss as Bob Rodger was to me," he said.
The opportunity to respect Rodger's wishes came quickly and had a hefty impact on Dodge's legacy. Bob Rodger watched the 1969 Daytona race, and saw the new Ford Talladega, with special sheet metal and a Torino roof, run with greater speed because it was created to be aerodynamic. Since NASCAR considered a car to be "stock" if 500 were sold, it was acceptable to NASCAR. Rodger called it "funny car" racing, and proposed that Dodge do Ford one better: making 500 of the "ultimate race car," no matter how impractical (quotes from Burt).
Bob Rodger tapped Morgan Dawley and Gary Romberg, respectively manager of the fluid dynamics lab and the corporate aerodynamics expert, and asked for a more aero version of the Dodge Charger. Dawley and Romberg tested their work at the Chelsea Proving Ground's huge oval. Rodger ordered the result built by Creative Industries, out of the existing, and more-aerodynamic-than-stock, Charger 500.
Burt Boukwamp remembered, as recounted at Allpar:
From September 14, 1969 through the 1970 race season, this is what the racing fans saw. During this year and a half, Dodge and Plymouth dominated NASCAR, winning 75% of the races. I remember being at Charlotte Motor Speedway in the fall of 1969 watching our cars running first, second, third, and fourth, in a diamond formation. They looked like the Blue Angels circling the speedway. I looked at Bob Rodger, our head of racing, and although he was dying of leukemia, tears of joy were streaming down his cheeks.