While flipping through the current "No Reserve" auctions on Bring-A-Trailer.com, I came across this 1972 Dodge Charger. When I first found it, I thought "why on Earth is this cool race car only $1,000 right now", but upon closer inspection, I figured out why. This car has a ton of issues, even as replicas of classic race cars go, but someone looking for a cool winter project could buy this '72 Charger and finish the transformation to a proper Dodge NASCAR tribute.
1972 Dodge Charger NASCAR Petty Tribute
According to the for sale listing, this 1972 Dodge Charger was converted from a normal street car to a Richard Petty replica race car prior to the seller acquiring it in 2020. If I had to guess, I would expect that the seller bought this car cheap with the intention of fixing it, only to find that there was lots more to this project than meets the eye.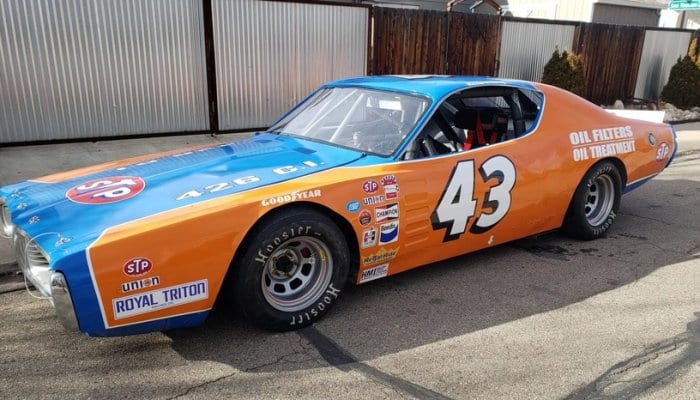 This Charger features a custom tube frame chassis under a modified body. There are no door or fender seams and those gaps have been perfectly deleted without a sign of having been there. On the other hand, there are riveted panels that cover the locations of the factory door handles, door locks and the radio antenna.
This Charger also has the factory chrome grille with custom headlight covers, while the factory taillight assembly has been painted Petty Blue with taillight delete panels. We can't quite tell if this body is custom sheet metal or modified factory sheet metal, but it has that classic race car look. In fact, whoever built this replica took that race car look a bit too far. As you can see, the front wheel openings have been cut and flared, but the actual Richard Petty 1972 NASCAR Charger had factory-shared front wheel openings. However, that isn't the only problem with this Petty replica.
Problems with the Tribute
This 1972 Dodge Charger Richard Petty replica shouldn't have the exaggerated wheel openings, but there is a chance that for the body to work with the aftermarket chassis, suspension, steering system and wheels, the builder had to cut the body for clearance. Ultimately, we can forgive that.
What we cannot forgive is the tiny STP oval crests on the rear quarter panels. If you look at any of Petty's race cars during the early 1970s – including 1972 – his livery features huge STP logos that took up the majority of the area between the rear wheels and the rear end of the bodywork. The builder included the right size logo on the hood, and that is what should have been on the rear quarter panels, but it is not. The font of the "Oil Filters/Oil Treatment" logos on the quarter panels doesn't look quite right either, nor do most of the smaller sponsor decals, but those don't really matter. What does matter is that the builder included the proper Goodyear logos over the front tires, but this Charger riders on Hoosier tires. That is completely wrong and, as easy as it is to source Goodyear tires, this inaccuracy is inexcusable.
So, on the outside, this 1972 Charger race car needs the chrome grille and wheels painted Petty blue, it needs the properly sized rear body-side STP logos and it needs Goodyear tires. Those who want to really clean up the exterior could do something with those custom headlight covers, as they are pretty rough, but they kind of get lost in the mess.
On the inside, this Dodge Charger has the NASCAR-looking seat, dashboard, steering wheel and roll cage, complete with a fire suppression system. Everything is grey and it should be blue, but that is an easy fix.
What will be a bit more difficult is fixing all of the awful welding work throughout the cockpit. Whoever built this car must have "known a guy who welds", because there are lots of very ugly welds on the roll cage and in other places in the cockpit and trunk. Frankly, we aren't sure if this cage would have passed a technical inspection, but that doesn't matter. Someone just needs to make this Charger look good inside and out. This home-brewed Charger isn't going to do any racing, so it is best to be cleaned up for car show use.
Hood Says Hemi, Engine Says Chevy
Richard Petty's 1972 Dodge Charger was powered by the legendary 426-cubic inch Hemi, which is clearly spelled out on the hood. The problem is that acquiring a 426 Hemi today would be very costly. In fact, a running 426 in awful condition would likely cost more than the entire rest of this build, so instead of finding a Hemi, the building used a 355 cubic inch Chevy V8. That is nothing short of blasphemy and our hope is that whoever buys this car at least installs a Mopar small block. A 360 from a 1970s Dodge truck would look better in this Charger engine bay than the Chevy boat anchor. That being said, I have read online that engines from the last modern Dodge programs can be acquired for a good price, and one of those would look very good in this engine bay while also costing way less than a 426 Hemi.
This 1972 Dodge Charger auction ends in 7 days and right now there is just a single bid of $1,000. There is no reserve, so if no one else bids on this classic NASCAR tribute car, someone who goes by "Wobbs" will get this car for an insanely cheap price. Even if it bids-up a bit, this is still a great chance for a Mopar NASCAR fan to score what could be a very cool Richard Petty tribute car.
If you are a good welder with some paint and bodywork experience, perhaps with a space Mopar V8 laying around, you could complete this Charger's transformation into a slick classic race car replica.