Today, Dodge announced that the long-awaited Hornet R/T is finally here as a 2024 model. The R/T is the more powerful of the two Hornets, boasting 288 horsepower and 383 lb-ft of torque in a body based on the Jeep Compass via the Alfa Romeo Tonale. The hybrid-electric car has 32 miles of electric range and 360 miles total range, with 77 MPGe; the gasoline engine is a 1.3 liter turbocharged four-cylinder. The electric motor powers the rear axle with up to 1844 lb-ft of torque at 0 rpm. The car can be fully charged in two and a half hours, using a Level 2 charger.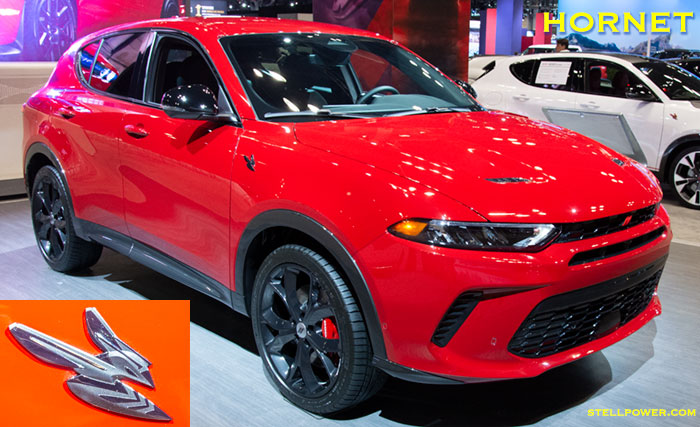 With the PowerShot feature active, Dodge claims a 0-60 time of 5.6 seconds, compared with the Dodge Hornet GT's 6.5 second run in sport mode. The R/T has an Aisin F21-250 six-speed automatic, while the GT has a nine-speed (and is powered by a turbocharged 2-liter engine).
The Hornet has standard all wheel drive. The R/T has Koni shocks, four-piston Brembo brake calipers, and dynamic torque vectoring. For more details, see our stable Dodge Hornet page.
Dodge claims that the Hornet GT is the industry's fastest and most powerful gasoline-powered CUV; sport mode is activated by a steering wheel button, unlocking a sharper throttle, aggressive shift schedule, tighter steering, and stiffer suspension if ordered with dual stage valve shocks.

Tonale drawing on left, actual Hornet on right
The R/T will share the GT's Blacktop Package, Track Pack, and Tech Pack options. Tech Pack includes 360° parking cameras, front parking sensors, parking assistance, drowsy driver detection, intelligent speed assistance, traffic sigh recognition, and highway assistance.  The Plus package for R/T includes ventilated and heated front leather seats, eight-way power passenger seats, Harmon Kardon sound, a sunroof, and a power liftgate.
2024 colors are Acapulco Gold, Blu Bayou, Blue Steele, Gray Cray, Hot Tamale, Q Ball, and 8 Ball. Interiors are black cloth-and-leatherette, black leather, red leather, or black Alcantara with red accents.
The Dodge Hornet is named after the AMC Hornet and Hudson Hornet; Hudson and Nash merged to form AMC, which joined Chrysler in 1987. The "Fabulous Hudson Hornet" was a championship stock racing car for part of its run, a luxury car powered by a straight-six engine with dual carburetors.