Stepping on its own press releases, Stellantis today released the STLA Medium platform, which will host cars and crossovers from just about every STLA brand—most likely including Jeep, Dodge, and Chrysler, and possibly even Ram.
STLA Medium is, in short, a global platform; it can handle compact and midsize cars and crossovers (C and D segments), potentially replacing everything from the Renegade to the Cherokee, or from Neon to Stratus/Sebring. Stellantis has 26 nameplates that could be covered by STLA Medium, and has the factory capacity to make two million vehicles per year on the platform this year.
The first STLA Medium vehicles are launching this year, and will likely be BEVs; STLA Medium is one of four global BEV platforms announced in July 2021 (suggesting that it is, as many have already speculated, essentially a modified Peugeot platform). Propulsion will be FWD or AWD—the latter using a second electric drive unit in the rear.
Vehicles built on this platform will deliver 310 miles of range on the standard battery, and up to 435 miles with the Performance Pack (500 and 700 km) using the Worldwide Harmonized Light Vehicles Test Procedure. Batteries will go up to 98 kWh; the power architecture is set at 400 volts. Consumption can be less than 14 kWh/100 km, best in class efficiency; while charging can go from 20% to 80% in 27 minutes (2.4 kWh/minute).
The platforms will have different "top hats," like body-on-frame cars, to allow for similar chassis in sedan, hatch, and crossover formats.
Power output will be 160-285 kW (215 to 382 hp, using Stellpower calculations). The wheelbase will range from 2.7 to 2.9 meters (around 108 inches), with length from 4.3 to 4.9 meters (around 170 to 193 inches). Ground clearance will peak at over 220 mm (8.7 inches) for off-road capability. Wheels can be up to 750 mm (30 inches).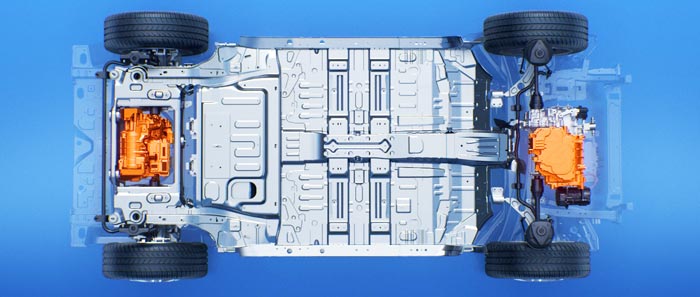 The battery pack is a modular single-layer unit which is designed to maximize interior space, ride, and handling, with a low center of gravity. All aspects of the vehicle, from air conditioning to steering, were designed to reduce energy use; the actual vehicles will have lightweight and rigid materials. The dimensions of the battery pack are the same regardless of Standard or Performance options, with common tray and cooling designs. The company plans to share three scalable electric drive modules among its front-drive, rear-drive, AWD, and hybrid vehicles.
STLA Medium has provisions for future battery chemistries, including nickel- and cobalt-free varieties, and solid-state batteries such as Factorial's, for future-proofing.
Ironically, Stellantis chose to reveal STLA Medium on the same day as the 2024 Dodge Hornet R/T, which is one of the cars it will eventually replace. The start date for North American production has not yet been announced, but it is likely to be at least a year after the European debut.