For the 2022 model year, police buyers can get a choice of pursuit-rated Chargers and Durangos, or opt for a special service Ram. So far there are no pursuit rated Rams, though Ford has a pursuit-rated F-150—a vehicle with a low top speed and brakes that a civilian car would be ashamed of.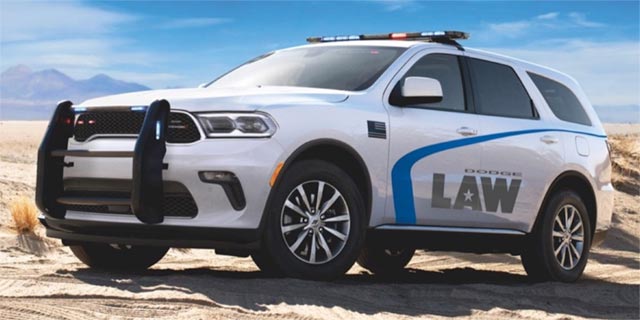 The Durango comes in V6 and V8 packages; the V6 was fairly slow in the Michigan State Police tests, but the 360-horsepower V8 performed adequately. Neither was in Charger territory, overall, though both come with standard all wheel drive. As police units, they have heavy duty disc brakes, special seats, a stealth mode (all lights darkened), vinyl floor coverings, special load-leveling suspension, cabin air filter, and a special module to integrate cargo-area-mounted computers. Eight-speed automatics are standard, with special shifters mounted on the dash.
There is also a special service Durango, with rear wheel drive and the same choice of engines; it has a stalk-style shifter, cabin filter, heavy duty brakes, and up to 7,400 pounds of towing. Gas mileage is rated at 19 city, 26 highway with the V6.
The Charger remains quite probably the best performing serious police car, assuming you don't consider Ford's turbocharged Explorer to be "serious" for heavy duty police work. Again there is a choice of the same two engines, but the V8 is rated for 370 horsepower and 395 pound-feet of torque, for more power in a lighter vehicle than the Durango. It includes the module for trunk-mounted computers, an integrated 12.1-inch screen and keyboard for higher safety than aftermarket mounts, secure park, special brakes and suspension, and cabin air filter. The V6 can achieve 18 mpg city, 27 highway, with all wheel drive; the V8 is rear drive only.
The Ram 1500 special service vehicle is based on the older Ram "DS" series, now dubbed Ram 1500 Classic. It comes only with the Hemi, rated at 395 hp and 410 lb-ft of torque—higher than it is in the Charger. The eight-speed automatic, cabin filter, and ten-way driver's seat round out the setup; gas mileage is rated at 15 city, 21 highway.