Late Thursday, Scott Boegler drove the Dodge Durango SRT Hellcat owned by Tina Boggess and built by American Muscle Performance into the 9-second range, making that the first factory-supercharged SUV to crack the 9-second barrier. After Boegler ran in the low-10s earlier this month, this Durango was the favorite to be the first in the 9s, but on Thursday afternoon at Palm Beach International Raceway made it official – making back-to-back 9-second runs in the Florida heat.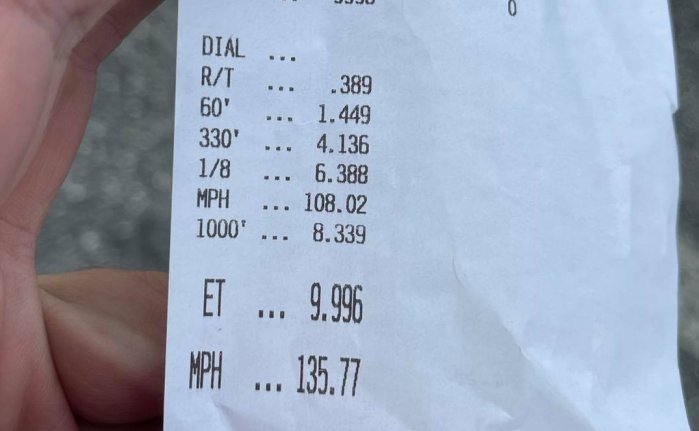 When Boegler first ran these numbers, my power and internet were out due to storms that pounded Michigan so today, we bring you a look at the first Dodge Durango SRT Hellcat to run a 9-second quarter mile.
The 9-Second Durango Hellcat
In case you missed our first piece about this Dodge Durango Hellcat built by American Muscle Performance in Pompano Beach, Florida, here is a quick rundown.
When the supercharged SUV was running 10.0s, it was equipped with a ported blower snout, a 2.65 upper pulley, a 10% lower pulley, a 108-millimeter throttle body, a JLT cold air intake, FIC 1200 fuel injectors, a JMS boost-a-pump and an off-road mid-pipe setup. The engine is tuned by Brent Hughes of DTP Performance to make peak power on VP Fuels X98 ethanol.
Since then, American Muscle Performance added a Cordes ice tank to help reduce engine air intake temperatures along with making some tweaks to the tune. However, these runs were made on a hot night with a density altitude of over 2,800 feet, so conditions were far from ideal, but that didn't stop Boegler from making history by being the first to put a Durango Hellcat into the 9s.
First Durango to the 9s
On Boegler's first run of the night, he reached the key milestone, becoming the first person to pilot a Dodge Durango SRT Hellcat into the 9-second quarter mile range. The four-wheel-drive SUV pulled 1.449 60-foot time, getting to the 8th mile line in just 6.388 seconds at a speed of 108.02 miles per hour. On the big end, Boegler stopped the timer with a 9.996 at 135.77 miles per hour.
Later on in the evening, Boegler backed that up with a 9.936 at 136.4 miles per hour. On that run, the Durango Hellcat pulled a 1.434 60-foot time and got to the 8th mile in 6.342 seconds at 108.48 miles per hour. You can watch both runs in the videos below.
The next morning, owner Tina Boggess drove this Durango more than a thousand miles home, so not only is it the first 9-second Hellcat SUV, but it does so without compromising daily driving abilities. The only difference was that the long drive was made on 93-octane pump gas, with a unique engine tune and a slightly larger upper pulley.
Congratulations to Boeger, Boggess and the American Muscle Performance team for putting the first Dodge Durango SRT Hellcat in the 9-second quarter mile range.