Grainy pictures of the larger 2023 Ram digital gauge cluster have been floating around the internet for a few days, but our hunt for a clearer, higher resolution version paid off thanks to the Dodge Ram Owners Australia Facebook page.
A member named Marty Marty shared a picture of what appears to be the new digital gauge cluster of a Ram 1500 Limited model with the 3.0-liter EcoDiesel. The key aspect here is that this entire gauge cluster is one big, beautiful digital display, with a mix of analog-style and digital-style readouts. This includes a tachometer that tops out at 5,000 rpm, a speedometer that stops at 120 and a diesel fuel gauge that is nearly empty. We can see that the vehicle pictured is in "Ship Mode", so the odds are good that this image originated at a company facility from someone who was involved in moving the truck from one place to another.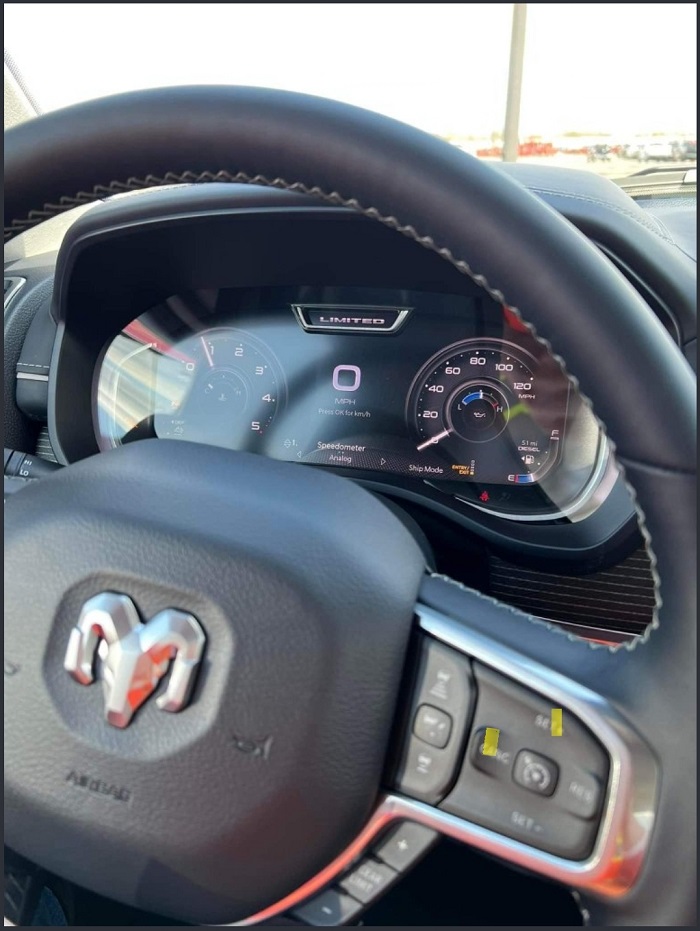 When the 2023 Ram 1500 and Heavy Duty models begin reaching dealerships with the fancy, new fully digital gauge cluster, it will mark the first time that this technology has been offered by the Ram brand. While the current models have impressive driver information displays, even the priciest 2022 models are not offered with a fully digital display – but that all changes for 2023. It is unclear right now exactly which models will get this beyond the Limited level shown, but we would expect that the 12-inch digital gauge screen would at least be an option in the high performance TRX models and the rugged Power Wagon.
In any case, the Ram truck lineup just keeps on adding more and more optional luxury to their interiors – which are already at the head of their class.