One of the key complaints about the modern Dodge Challenger is that the brand has not offered a convertible, but that is changing tomorrow. Dodge has teamed up with Drop Top Customs – a company that has been building Challenger convertibles since the modern muscle car was introduced – to deliver open-air muscle cars to dealership customers. This program is opening based on the 2022 model year Challengers, but it will also be offered for the 2023 model year when they go on sale later this year.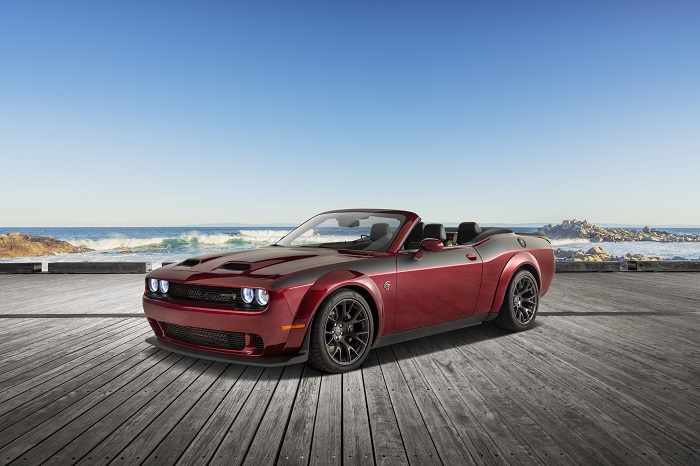 "While we hit the throttle towards our new performance path, Dodge is also having fun on this victory lap by celebrating decades of muscle car power," said Tim Kuniskis, Dodge Brand Chief Executive Officer – Stellantis. "What better way to commemorate how far we've come than to make it easier for Dodge Challenger customers to create a throwback convertible look. We may not upfit them, but those who want a convertible Challenger can get one faster, expedited from the factory to Drop Top Customs. Owners can order third-party modifications through our Dodge dealerships, and then pick up their finished convertible at the dealer once the vehicle is complete."
Modern Dodge Challenger owners have always been able to contact Drop Top Customs to have their coupe transformed to a convertible, but starting this week, customers who are buying a new muscle car from the dealership can opt for the convertible package. This package can be applied to every 2022 and 2023 Challenger model with a Hemi – this includes the R/T, Scat Pack and SRT Hellcat models.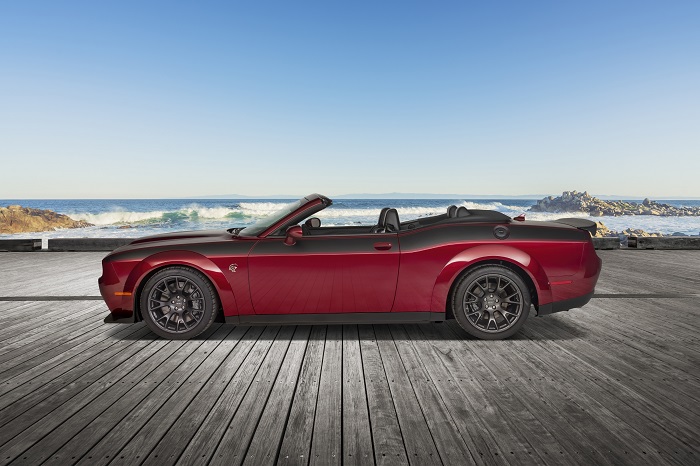 After the car is built in Brampton with the rest of the Challengers, rather than shipping directly to the dealership, the cars being converted to convertibles are shipped to Drop Top Customs. Once there, the roof is removed, the power soft top is installed and structural reinforcements are added to prevent chassis flex once the hard top is cut away. Once the conversion is completed, the car is shipped to the dealership for delivery. For the customer, the process of buying a convertible from the dealership is similar to buying a coupe – it just costs a bit more. Quite a bit, actually.
The Dodge Challenger Convertible package has an MSRP of $25,999, on top of the base price of the car being purchased. That means that a $70,000 SRT Hellcat becomes a $96,000 SRT Hellcat Convertible, but the end result is a factory finish and a topless muscle car with upwards of 800 horsepower. That is a hefty price tag, but anyone looking to buy a collectible 2023 Challenger may opt for this unique package.
Dodge dealerships in the United States will begin taking retail convertible transportation orders tomorrow (August 16, 2022) on 2022 model year Challengers, but once the 2023 models begin rolling down the assembly line, they can be ordered in convertible form as well. More ordering information, including warranty information, is available from Drop Top Customs at DropTopChallenger.com.