Stellantis reported retail sales similar to 2020, and total sales around 2% below 2020.
FCA US LLC had sales of 411,513 vehicles in the fourth quarter and 1,777,394 vehicles in all of 2021. By comparison, GM sales dropped by 13% year to year; Honda rose 9%; Hyundai rose 22%; and Ford has not yet reported in, only providing November 2021 sales so far.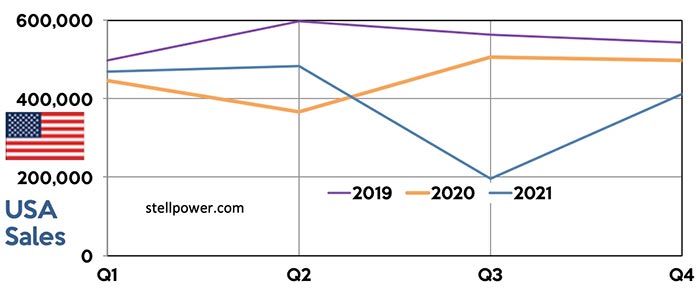 Stellantis' U.S. brands came in at #4; Toyota finished the year in first place in U.S. sales (2.33 million), displacing GM to #2 (2.20 million). Ford came next with, at our estimate, around 1,891,215. FCA ended well ahead of Honda's 1.47 million, Nissan's 1.08 million, and Hyundai's 1.49 million.
Two major pieces of news for an odd year of shortages and COVID were GM slipping from #1 in US sales, for the first time in 90 years, and Hyundai beating Honda.
As with GM, most of FCA's sales came in the fourth quarter. Fleet sales fell by 8% in the quarter, 13% year over year; total sales fell by 18% in the fourth quarter. The shortfalls were caused by production slowdowns, which in turn were caused by parts shortages.
There was good news in FCA's numbers, including sales of 7,892 Wagoneers and Grand Wagoneers during their first full quarter; and record fourth-quarter sales for the Pacifica and Pacifica Hybrid.
It is hard to draw any conclusions from what sold well and what did not, since many sales in this year were due to availability rather than desirability. That said, within Jeep, the Cherokee, Renegade, and Compass were all down; 16 Patriots surfaced and were sold; and the Wagoneer saw 5,349 sales while the 392-powered Grand Wagoneer saw 2,675 sales.
Within Ram, the pickups gained 1%, the ProMaster—currently favored by Amazon—gained 25%, and ProMaster City gained 40%. At Chrysler, the Pacifica gained 5% year over year and the 300 gained by 9 cars. The full year for Chrysler 300 was poor, with 16,662 sold—versus 78,389 Chargers and 54,314 Challengers. It bodes ill for Chrysler's big sedan. For what it's worth, Chrysler 300 easily outsold all four Fiats combined, though only the 500X was officially on sale—they sold 2,374 Fiats; it seems the inventory was cleared out, with 51 500s, 190 500Ls, and 952 Spiders finding new homes.  Alfa was down 2%, with 18,250 sales.
As for the rest of Dodge, the Journey and Caravan were both dropped, so selling 14,035 Journeys and 3,037 Caravans probably cleared the lots permanently. There were 35,000 fewer Caravan sales in 2021 than 2020, but only 4,500 more Pacifica sales; but the Pacifica was definitely supply-constrained. Durango saw a 14% gain, though, despite a 26% gain in Grand Cherokees.
Grand Cherokee L was not split out; nor was Voyager.