Dodge has made a collection of big announcements for the Direct Connection catalog at the 2022 SEMA Show, which opens today in Las Vegas. There are four Hellephant engines coming to the catalog along in the next two years with three "HurriCrate" engines, which are based on the new Hurricane inline-six engine family that is currently only in use in the Jeep Wagoneer and Grand Wagoneer.

One of those HurriCrate engines, named the CatX, is earmarked to be the engine for the next generation Dodge Drag Pak, per Tim Kuniskis. He didn't actually say that the next generation Drag Pak would be a Challenger, but every Drag Pak in the history of the program was based on the modern Dodge Challenger, so another Challenger is the most likely candidate for the next generation Drag Pak with inline-six power. That might sound crazy, but Kuniskis also pointed out that the HurriCrate CatX is expected to offer somewhere in the "mid-1000" range in terms of horsepower, which makes sense. The current Challenger Drag Pak with the supercharged 354-cubic inch Hemi officially makes 650 horsepower, but in actuality, it is making well over a thousand horsepower to put the Mopar muscle car in the 7-second quarter mile range.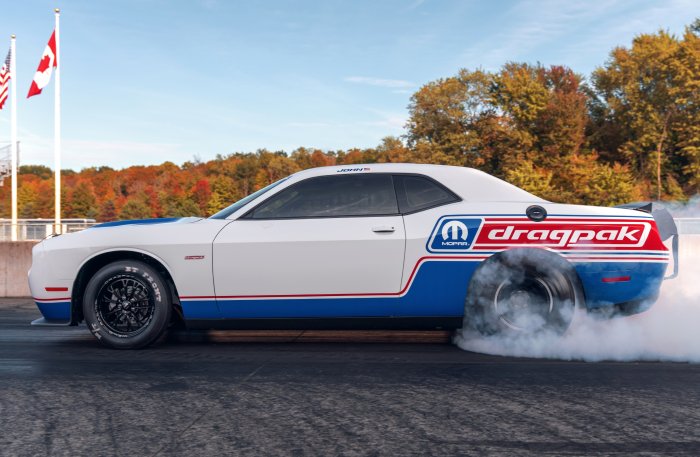 Dodge is also showcasing the HurriCrate engine in the Direct Connection Grudge Match at Roadkill Nights 2023. Right now, Dodge has no vehicles with the Hurricane engine, but they plan to use it in the next generation Drag Pak, they plan to offer it as a crate engine with a bunch of other factory-issue engines and they plan to showcase the engine in the same way that they did the Hellcat and Redeye engines in past years.
All of those signs point to Dodge using the Hurricane engine in one of their products very soon and the fact that the engine will also be in a Drag Pak model suggests that the next generation Dodge Challenger could be that vehicle.
Of course, there is also the possibility that the next generation Charger, which was introduced in concept form as an EV-only model, could be transformed into the next gen Drag Pak. The only downside to that is from a marketing standpoint, as offering an ICE-powered race car alongside an all-electric production road car lineup will frustrate those who would prefer a new Charger with spark plugs and a gas tank.