Hyundai-Kia's three brands dominated the 2022 J.D. Power Dependability Study™, which looks at problems in the first three years of ownership; all cars studied were 2019 models.
Dodge was the top Stellantis brand, coming in between Porsche and Cadillac, beating Chevrolet, Mazda, Lincoln, BMW, and Ford, among others.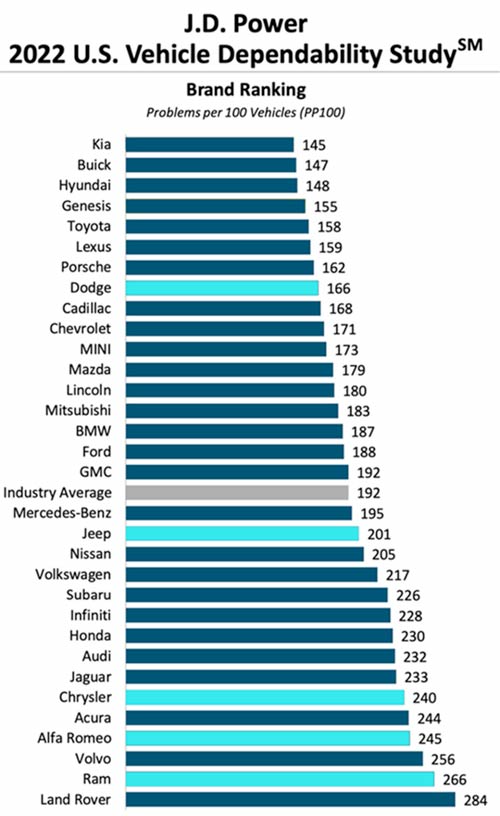 The rest of the Stellantis brands came in below the average; Jeep did relatively well, quite close to average, between Mercedes and Nissan. The rest were all close to the bottom, with Chrysler between Jaguar and Acura; Alfa Romeo between Acura and Volvo; and Ram, oddly, coming in below Volvo in second-worst place. The absolute worst was Land Rover, as usual. Tesla and Maserati were not included due to a small sample size.
The Dodge Charger was a runner-up in the large car category, along with the Buick LaCrosse; the Chevrolet Impala won this category. The Dodge Durango was a runner-up in "Upper Midsize SUV," with the Chevy Traverse, behind the Kia Sorento.
In trucks, the Dodge Caravan was the top ranked; the runner-ups were Toyota Sienna and Chrysler Pacifica.
J.D. Power pointed out that the largest problem area was infotainment, especially built-in voice recognition. The study was based on responses from 29,487 owners.