What of the Cherokee? With nearly a decade on the KL platform, the Cherokee has waxed and waned in popularity. While it's a comfortable vehicle whose TrailHawk version did pass the Rubicon test, some of the Jeep faithful deride it; and quite a few 2021s are sitting in inventory in the middle of a vast car shortage. The assembly plant that makes it has been running slowly, down to one shift, and shutting down for weeks at a time. It's clearly time for something new, and the company may have shown it to us: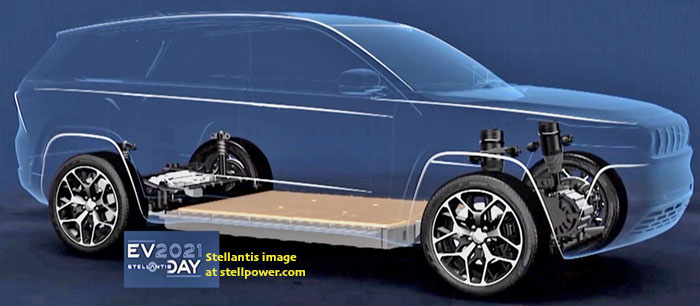 Turning the Cherokee into a BEV would make it unique for the segment (either electric SUVs or midsized crossovers). It would be a severe challenge to match Rivian's R1S on off-road chops, but if it sold at a stiff enough discount to Rivian's $75,000, people would probably not care if it has a bit less off-road capability or can't do 0-60 in 3 seconds. What's more, Rivian is struggling to meet demand for its three-vehicle lineup—vans, SUVs, pickups—from its former-Diamond-Star-Motors factory in Normal, Illinois. It's possible that even if it doesn't start production until next year, Jeep would have a major production advantage.
This would also explain rumors that the Belvidere plant will switch to making electric vehicles.
Right now the Cherokee's future is still speculation, and the vehicle shown above could be something else—the shape fits a BEV Grand Cherokee quite well. That said, switching the Cherokee to BEV form would carry relatively little risk, given its current sales and profitability, and could create a real hit, given the popularity of the Mustang Mach-E and the Tesla 3 and Y.