Earlier this week, Jeep unveiled the Jeep Recon and Wagoneer S. Surprisingly, they have more in common with each other than the Wagoneer S has in common with the Wagoneer. Specifically, the Jeep Wagoneer and Grand Wagoneer are body-on-frame vehicles based on the Ram 1500; the Wagoneer S is on the STLA Large platform, which has a completely flat floor.
The Wagoneer itself is considerably larger than a Grand Cherokee outside;  the Wagoneer S has a smaller footprint than the Grand Cherokee, with similar interior space. It seems as though the Wagoneer name is being used for a sub-brand running parallel to Range Rover.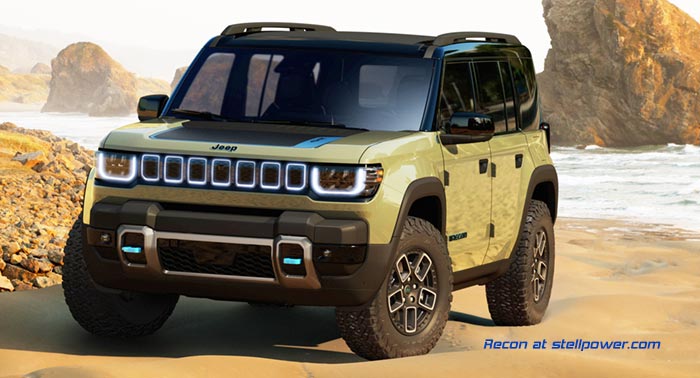 Meanwhile, the Recon looks like a Jeep Wrangler (or Ford Bronco), especially from the side, with the doors off. It, too, appears to be an STLA Large car, roughly the same size as the Wagoneer S. Both are full electrics, with the batteries as low to the ground as possible for better handling, and no need for a "hump" on the floor.
The completely flat floor suggests that these will be all-EV vehicles, while the Grand Cherokee's hybrid-electric form will likely be as close to BEV form as it gets.
The Recon looks smaller than it actually is, when presented by itself in photos. Again, it is about the same size as the Wagoneer S.
The Recon will come with Selec-Terrain, locking axles, skid plates, tow hooks, off-road tires, power top, and removable doors and glass. It seems likely to have an independent suspension—whether that is as capable as the one in the Rivian R1S, an expensive but surprisingly good off-roader, is yet to be seen. Jeep reports that it is capable enough to handle the Rubicon Trail, on a single charge, with enough battery remaining to get back to town.
The Wagoneer S and Recon will both be sold entirely as BEVs. The Wagoneer S target range is 400 miles, with target power of 600 hp, and a 0-60 time of 3.5 seconds; it will likely sell at a price premium since Wagoneer is a luxury brand. Production versions of both vehicles will be shown next year and production will start in 2024 in North America (almost certainly Canada), with reservations coming in early 2023.