Do you have a relatively fresh 360 from a first gen Dodge (or Ram, if newer) truck, stock or modified, that you are willing to sell? If so, you could do a fellow member of the Mopar community a huge favor as he tries to get the family Lil Red Express back on the street so that his 82 and 85-year old parents can spend some time enjoying it before they are no longer driving.
Here is a quick summary of the story of the Campfield family Lil Red Express and how you might be able to help.
The Lil Red Express Dodge D150 shown here is owned by longtime Mopar enthusiast Craig Campfield, but it has been in his family since 1980, when he father bought it to serve as a cool daily driver. Later in life, Craig was in high school and he was old enough to drive, so he got to have some fun with the truck as well, doing burnouts and exercising the 360 cubic inch V8 that made it one of the most powerful American production vehicles on the market when new. Also, aside from being daily driven by the father and driven hard by Craig, his mother enjoyed going for rides through the Ohio countryside on nice days. Also, once Craig's son, Tyler, was born, the third generation of Campfield began making memories and when Tyler's son was born, four generations of the family had enjoyed the Lil Red Express.
As the truck got a bit older, it officially became Craig's truck when his father passed it down to him, at which point he restored the interior, adding new period-correct vinyl upholstery. Over time, he continued to restore the truck, adding new chrome, fresh exterior wood trim and most recently, a new engine. Rather than stick with a stock 360, Craig went with a 408-cubic inch stroker motor that would provide far more power. His goal was for the truck to be a fun cruiser for his mom and dad this past spring, who are now 85 and 82 respectively.
However, the engine build ran into issues that caused catastrophic failure, so he is in need of a new engine. The problem is that it has become difficult to find many key components for the build and in searching both online and in his local area, he has not had any success in finding an engine to replace the damaged engine in the family Lil Red Express. Everyone he has spoken to about getting another engine has told him that it will take 3-to-5 months and that timeline won't work. Today, the truck is still not running and his parents are facing some health issues, so Craig is looking to the Mopar community for help in finding an engine for his family's classic 1978 Dodge truck as soon as possible.
What he is looking for is a complete, relatively fresh engine that he can install and begin driving. He needs an LA-based 360, be it stock stroke or another 408 (or something similar), with everything intact from carb to oil pan. He doesn't want to install a tired engine, so he is looking for a new or low mileage build, or a low mileage takeout. Ideally he would like the seller to be able to provide the key information on the engine without him having to open it up to figure out things like camshaft specs and compression ratio. Whatever he buys, he wants to be able to install, hook up the wiring and get to driving.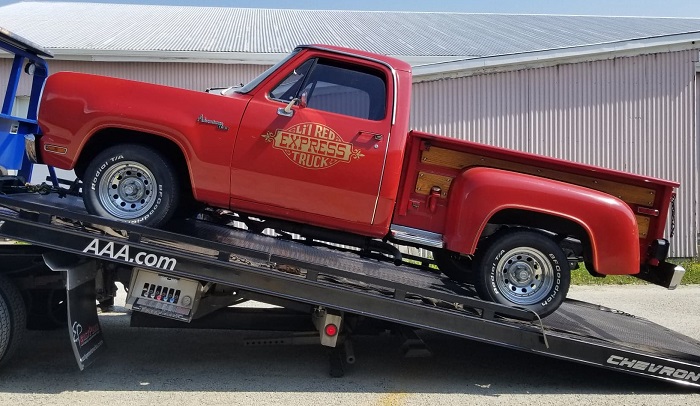 If you are reading this and you have an engine that would help get the Campfield family Dodge Lil Red Express running before winter – or if you know of someone with an engine might work – please reach out to Craig as soon as possible at cmc300m@gmail.com.