The Epling name is well-known in the modern Mopar racing world, with the Dodge Challenger SRT Hellcat owned by Leon Epling and driven by his son, Jason, serving as one of the quickest Hellcat cars – if not the quickest – for the past few years. During those years, Jason's son, Logan has helped with the Challenger while also learning the ropes of the racing world. Needless to say, he has learned a great deal about making vehicles get down the track, leading him to open his own shop, Epling Motorsports.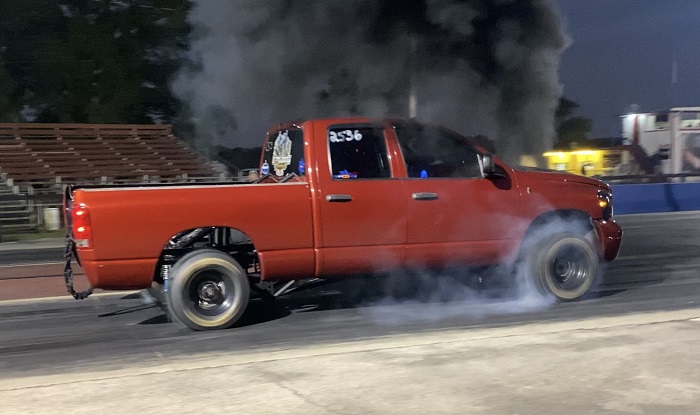 Epling Motorsports offers options for go-fast builds like the family's Challenger Hellcat, but Logan has gone a very different route with his own racing conquests. Rather than a muscle car, he has built a Ram 3500, but like the family Hellcat, his Cummins-powered pickup is the quickest of its kind in the world. While racing at Kentucky Dragway on September 30th, Epling's Ram ran a 5.283 at 140.707 in the 8th mile, which is the quickest E.T. ever recorded by a quad cab Ram truck – beating the previous record of 5.30.
The Record-Setting Ram 3500
The truck shown here is a 2006 Dodge Ram 3500 Quad Cab, which came form the factory with a 6.7-liter Cummins Turbo Diesel engine. That engine has been sleeved down to a 5.9 bore and fitted with a Forced Induction 88-millimeter GT55 turbocharger, 500% fuel injectors, dual CP3 injection pumps and a Nitrous Express system with the Maximizer 5 controller. Logan handles all of the tuning in-house.
This engine was producing somewhere in the area of 2,100 horsepower on this run, with all of that power being channeled to all four wheels by means of an Epling Motorsports competition 48RE transmission featuring Suncoast internals. A set of four Holeshot wheels wrapped in Hoosier 28×10.5 slicks do their best to provide traction.
This 2006 Dodge Ram 3500 has all of the factory steel body panels, the factory dashboard, the factory door panels and front seats, but the rear seat has been removed to make room for the safety cage. As you can see, the bed floor has been removed and the standard rear frame section has been replaced with custom tubing, but this is still a heavy truck. When it hits the track, it weighs around 5,000 pounds, yet it accelerates from a stop to 140 miles per hour in just over 5 seconds.
The Record Run
In the video below, we watch as Logan Epling sets the record for the world's quickest Ram quad cab. After a pretty wicked four-wheel burnout, he stages, takes his time letting the boost build and comes tearing away from the line. The truck still spins the tires a bit, forcing Epling to chase it around the lane a bit, but he stays into it and blast across the 8th mile stripe in just 5.283 seconds at 140.707 miles per hour.
Those who do not drag race may not be able to really imagine running the 8th mile in 5.28 seconds, but figure that a stock Hellcat Challenger sprints from a stop to 100 miles per hour in about 7 seconds. This Dodge Ram takes just over 5 seconds to go from a stop to 140 miles per hour.
On this run, the big Ram got to the 60-foot mark in 1.341 seconds even with some traction issues, leading to the 5.28 8th mile. Logan than lifted, as this truck is primarily built for 8th mile racing, but get this. He coasted through the quarter mile traps in 8.838 seconds at just 102.637 miles per hour. While running hard to half-track and lifting, he coasted through the quarter mile in his Ram 3500 than almost any street legal car in the world can cover the same distance while wide open.
Best of all, Logan Epling believes that his Ram 3500 will easily get into the 4-second 8th mile range in the future. His 5.28 run was the first pass off of the trailer that night and after this pass, he had an injection pump failure that ended the night early. He made that pass with a tune that yields around 2,100 horsepower, but his built will provide up to 3,000 horsepower with a spicier tune – almost surely leading to significantly quicker track times.
In other words, we will almost surely be talking about Logan Epling and his Ram 3500 in the future, but for the meantime, enjoy the video below of this monstrous Dodge truck setting the quad cab record.
For those wondering, in addition to building wicked modern Hemi and Cummins Turbo Diesel race vehicles, Epling Motorsports offers general diesel repair, off-road performance builds, performance transmission builds and they even offer performance services for LS-powered vehicles. In short, if you live near Morristown, Tennessee and you are looking to have a modern Hemi or Cummins-powered vehicle built to dominate the track or the mud, Epling Motorsports is a great shop to handle your build.