The 2023 Dodge Charger Super Bee is the second of seven special-edition "Last Call" models.
The Dodge Super Bee was launched in 1968, essentially copying the Plymouth Road Runner by stripping out creature comforts and loading in performance features. Its light weight and powerful engines made it a car to contend with, though the Road Runner took the lion's share of sales. For 1971 it became a model of the Dodge Charger. Both series provided higher performance at a lower price than most other vehicles, and could be driven for groceries and then  raced.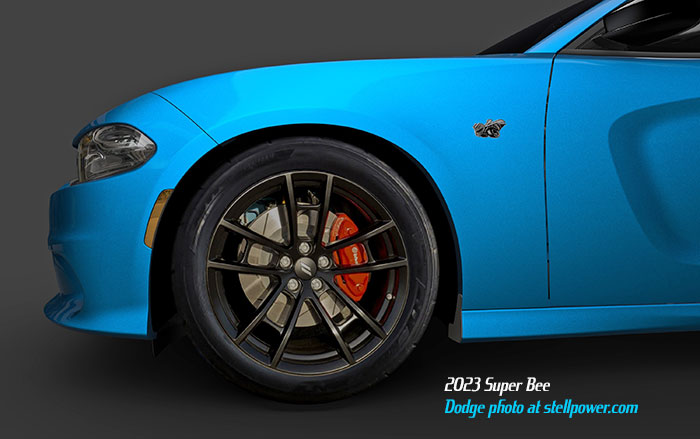 The 2023 Dodge Charger Super Bee is the highest-performance Charger Super Bee ever produced, with standard drag radials.
"The Dodge Super Bee is more than commemorative of a cool heritage name — it is also a Charger variant of the Challenger 1320 grassroots race package," according to Tim Kuniskis of Dodge.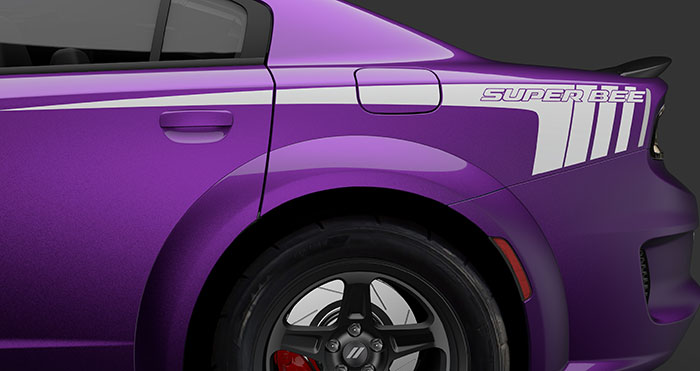 There will only be 1,000 2023 Dodge Charger Super Bees—500 Charger Scat Pack (in B5 Blue) and 500 Charger Scat Pack Widebody (in Plum Crazy) models are planned. Features include the Plus Group, Carbon/Suede Package content, and:
Super Bee exterior badging on the grille and front fenders, and graphics on the functional hood scoop and rear fenders (blue graphics with B5 Blue, white graphics with Plum Crazy)
20-by-9.5-inch knurled wheels with 275 drag radials (Scat Pack) or 18-by-11-inch drag wheels with 315 drag radials (Scat Pack Widebody)
Adaptive damping suspension with Drag Mode
Black Mopar hood pin kit with SRT hood (including functional scoop and dual heat extractors)
SRT black exhaust tips
Red four-piston Brembo brake system
Super Bee interior instrument panel badge and seat back logos
These will be allocated to specific dealerships, with pricing and dealer information shared when vehicle ordering opens later this fall.
The next Dodge "Last Call" models will be announced on September 7, 2022.