Jim Morrison, head of Jeep and longtime off-road enthusiast, said that there would be four all-electric Jeeps by the end of 2025, with hybrids or full-electrics by that time. These are three of the new battery-electrics coming out in 2023-24. Rivian's R1S has already shown that the BEV format can be very helpful in increased offroad prowess; now it's Jeep's turn provide offroad BEVs—presumably at much lower prices.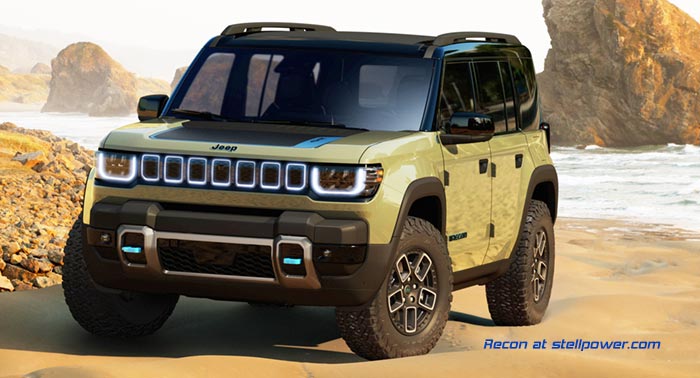 Jeep Recon: the production SUV
One of Jeep's first battery-electric vehicles to launch in North America is the Jeep Recon, a completely new vehicle for "those who love to explore extreme adventures in near silence with a rugged, fully electric vehicle package." The Recon was designed from the ground up to be "100% Jeep" and battery-electric (BEV) only. 
The Recon will come with Selec-Terrain traction management, electronic locking axles, underbody protection, tow hooks, and off-road tires; a one-touch power top, removable doors, and removable glass; and the latest-generation Uconnect. What we don't know yet is whether it has an independent or solid-axle suspension; the former, if built with long travel, can be quite good off-road and on-road, while the latter is more amenable to modifications.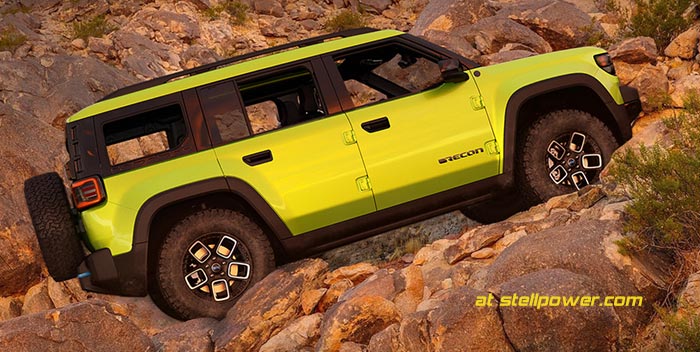 The Recon appears to be the new "EJ," and comes with the latest UConnect with detailed guides on many trails (the body code EJ could stand for Electric Jeep, as CJ stood for Civilian Jeep). It will be shown in 2023 with production starting in 2024 in North America; orders will begin in early 2023. It will be a global vehicle, sold in Europe and other offshore markets.
Jeep Avenger: the first fully electric Jeep
The Jeep Avenger, using a name from (Chrysler-owned) Hillman which also graced a series of Dodge cars, will enter Europe in 2023. All Jeeps will be electrified in nearly all European markets by the end of 2023, with four zero-emissions vehicles sold by 2025. The Jeep Avenger is a compact SUV first presented during the Dare Forward long-term strategic plan earlier this year.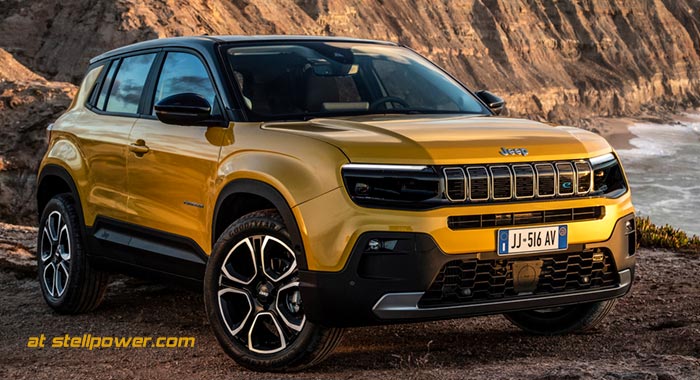 The Jeep Avenger will also be sold in Japan, South Korea, and other markets; it will be made in Italy and slotted under the existing Renegade. The range goal is 400 km (248 miles), with "impressive ground clearance, breakover, and approach angles." It will be revealed and opened for orders on October 17, 2022, and delivered starting in 2023.
Wagoneer BEV
Code-named Wagoneer S, the battery-powered, Ram-based luxury Wagoneer will be sold entirely as a BEV, with a target range of 400 miles, target power of 600 hp, and 0-60 time of 3.5 seconds. To be sold globally, it will have standard 4×4 and greater aerodynamic efficiency than the normal Wagoneer (made possible, one assumes, by not needing so much space for the engine under the hood.) It will be shown next year and production will start in 2024 in North America, with reservations coming in early 2023.