Jeep unveiled two special editions today covering its most popular (in the US and Canada) models—the Wrangler and Grand Cherokee.
2023 Jeep Wrangler Willys 4xe
The 2023 Jeep Wrangler Willys 4xe pairs the 4xe system, which generates a whopping 470 lb-ft of torque with 49 MPGe, a 2.72:1 low range, Dana 44 axles, lift to 10.1 inches of ground clearance, and a lower price point than the past 4xe Wranglers. The Willys 4xe starts at $53,995, but with destination and tax credit lists at $48,090. In Canada, the system is rated at 4.8Le/100km, with the same power rating; ordering starts in the fourth quarter of 2022. Canadian pricing has not yet been announced.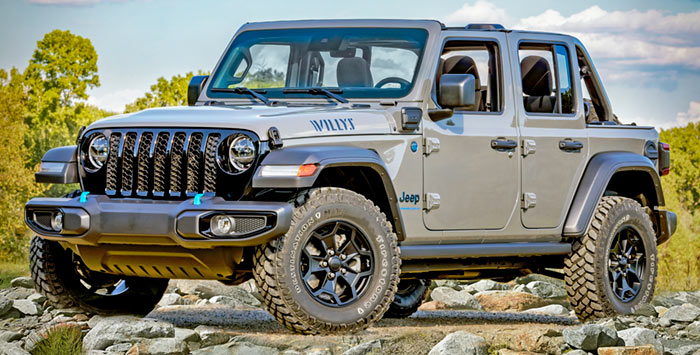 The original military jeeps were a combination of American Bantam's basic design and the Willys four-cylinder engine. After the war, Willys made civilian models which eventually dominated their lineup, replacing Willys' traditional passenger cars. Prewar, Willys-Overland had been one of the most successful automakers in America for a time.
2023 Grand Cherokee 4xe 30th Anniversary
The 30th Anniversary Grand Cherokee includes the 4xe system, with 25 miles of electric range and 56 MPGe from a hybrid system with 375 hp and 470 lb-ft; it can tow up to 6,000 pounds. The 30th Anniversary special edition includes black Capri leather seats, ventilated in front; a wireless charging pad; 10.1 inch screen; nine-speaker Alpine audio; navigation; wireless Apple and Android auto systems; front/rear park assist; Intersection Collision Assist, passive entry; rain-sensing wipers; digital rearview mirror (handy for towing); and 360° cameras. The cost is $4,700 for the package, which is available in the US and Canada. Canadian pricing has not been released yet.
The "ZJ" 1993 Jeep Grand Cherokee was originally designed as a replacement for the XJ Cherokee, but it was luxurious enough for the company to keep the XJ in production as a mainstream product while selling the new model as a premium vehicle—much as the Ram 1500 Classic continues as the next-generation Ram 1500 takes a premium spot.