Today, Christian Meunier, CEO of Jeep (global), unveiled the 2024 Wranglers. It was an unusual reveal, focused largely on emotion for the first ten minutes or so—the spirit of Wrangler, the Wrangler family, the Jeep wave, Jeep events and gatherings, groups of Jeepers helping in crises, and the "duck duck Jeep" tradition, giving credit to its creator, Allison Parliament.
According to Meunier, "ducking" has penetrated the world, and is now becoming popular in the Middle East. Another interesting trend is getting into Wranglers by doing a handstand and getting in through the window from there, as shown by a repeating video. He did not offer to do this stunt.
Wranglers have a high resale value; indeed, Meunier claimed that 85% of Wranglers, from 1986 on, are still on the road. In addition, not only is Wrangler the best selling PHEV in America, but the Grand Cherokee is the #2 best seller.
After nine minutes, the unveiling moved past these facts and thoughts and Meunier said that by 2025, all Jeeps will have a 4xe option—4xe being used for both all-electric and plug-in hybrid (PHEV) designs. The new Wrangler Sport 4xe provides a lower entry price for the lineup. The Wrangler PHEV provides V8-like acceleration with V6-type gas mileage; and it can be drive for a reasonable distance on battery alone, so owners with, say, ten-mile commutes may never have to buy gasoline. (Gasoline does go bad after a while, so they should buy some now and then.)
For 2024, the Wagoneer S 4xe, a battery-electric, will run 0-60 in 3.5 seconds with a 400 mile range.  The Recon, another BEV, is also to be branded as a 4xe; it will be Trail Rated as well. The Wrangler will continue alongside the Recon.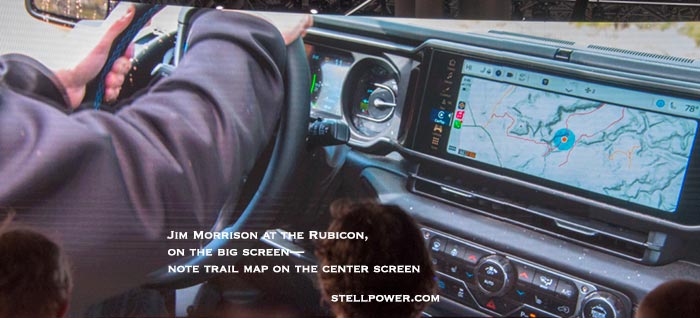 At this point he transitioned to Jim Morrison, head of Jeep North America, who was reporting from the Rubicon Trail. Jim disconnected his camp site from his Rubicon 4xe, which had been powering the lights; then he got in and drove it through the Rubicon Trail.
At this point, Jim stopped reporting from the Rubicon and joined the stage in person, giving the Jeep Wave and joining Carlos Tavares (Stellantis CEO) and Christian Meunier.
Four 2024 Jeep Wranglers were on stage, featuring new items such as full floating axles, power seats, and massive new displays which are standard across the line (see our 2024 Wrangler writeup). These new features are likely a response to pricing pressure; rather than lower prices, the company is putting in a great deal of newly standard equipment and upgrading where they can. The power seats in the new High Altitude are certainly comfortable.
The High Altitude above has more creature comforts, while the Willys gained in capabilities.
The Jeep Wrangler piloted by Jim Morrison, a highly skilled offroader, with authentic mud:
And, finally, the 392.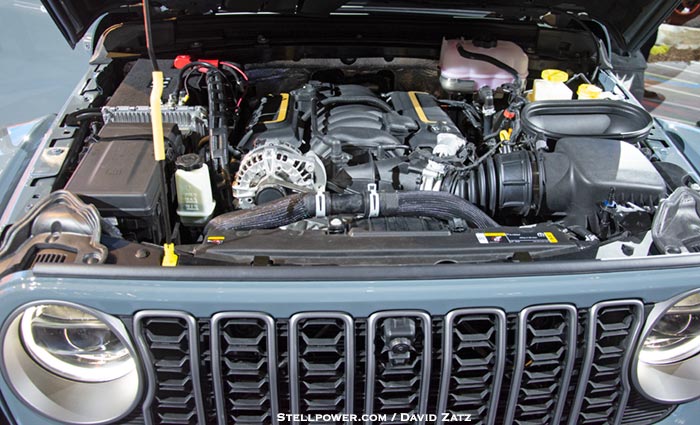 Inside the new Wrangler: