Shortly after the ordering window opened for the 2023 Dodge Challenger SRT Demon 170, rumors about a secret Jailbreak option for the 1,025-horsepower muscle car began floating around. Details, none confirmed by Dodge, suggested that a small number of "select individuals" were invited to pick an exterior color from a list of options not in the standard 2023 color palate. Some claimed that 20 people were invited, while others claimed that 50 or more would be given this opportunity. Everyone agreed that the price of this custom paint option was a lofty $30,000.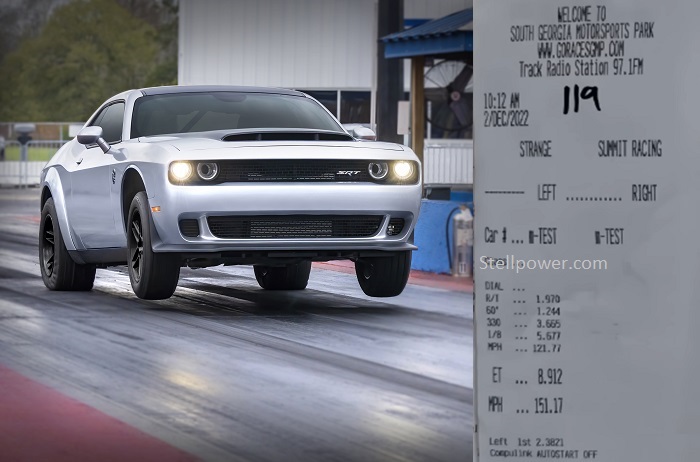 When the unofficial news of the Demon 170 Jailbreak package hit social media, I reached out to Dodge; and at that point, the company did not want to provide details. They didn't want publicity for this program, as they didn't want hundreds of potential customers trying to order one of the 40 (not 20 or 50) slots for the Demon 170 Jailbreak program. Now that the order banks have closed, Dodge issued this release:
"The Jailbreak 170 is a celebration of the ultimate 'Last Call' Dodge Challenger SRT Demon 170 shared with our most loyal muscle car customers. Select individuals were offered this exclusive paint option based on their new Dodge Charger and Challenger purchase history and Dodge brand affiliation. This one-of-one paint option will add an extra layer of customization and collectability to the record-breaking Challenger SRT Demon 170, and was made available on a limited basis to those who have meant so much to the latest era of Dodge muscle. The option is no longer being offered."
The details of the 2023 Dodge Challenger SRT Demon 170 program are fairly simple. The company selected 20 modern colors and 20 heritage colors which were not normally available and sent examples to the "select individuals" who were rumored to have been personally hand-picked by Dodge leader Tim Kuniskis. Those who were willing to pay the extra $30,000 were invited to select and rank their top three favorite color options. Only one car will be painted in each of those 40 colors, and they were allotted to buyers on a first come-first serve basis; so if a celebrity whose initials were BG was the second person to submit his order, and the first person picked the same color with their first choice, BG would have to settle for the second on his list. The color cards shown here were provided by a source who did not want to be named.
These Demon 170s will be built at Brampton like all of the other units, but they will leave the plant in plain black paint and head to Prefix in Metro Detroit. Prefix, which handled the custom Viper GTC paint program back in 2015, does excellent work, so we can expect that these 40 Demon 170s will have the best paint jobs possible.
If you were wondering who Tim K. chose, based on posts by members of the community, there were two groups – celebrities and people who have bought a whole lot of new Dodge cars in the past few years. The few celebrities helped to promote the brand in recent years, such as the "BG" mentioned above. The loyal buyers bought at least 5 and as many as 10 new Dodges  over the past decade.
Some people who heard about the program during the ordering process contacted the company with the hopes of being included, but they were sent the following note.
"An extremely small number of select individuals were invited to participate in the Jailbreak 170 exclusive paint program based on their new Charger and Challenger purchase history and Dodge Brand affiliation. This 1-of-1 paint job will add an extra layer of customization and collectability to their record-breaking, Last Call SRT Demon 170. While this is available to only a few of those who have meant so much to the latest era of Dodge Muscle, we recognize and thank you for your passion, and appreciate your interest but aren't able to accommodate your request."
The 40 people who were chosen will each have one of the most unique examples of the 2023 Dodge Challenger SRT Demon 170.