Did you want a nearly new Dodge Charger police car—the kind civilians ordinarily can't lay their hands on? There's a true-blue example with just 280 miles for sale at bringatrailer.com, complete with all wheel drive and LED window spotlights.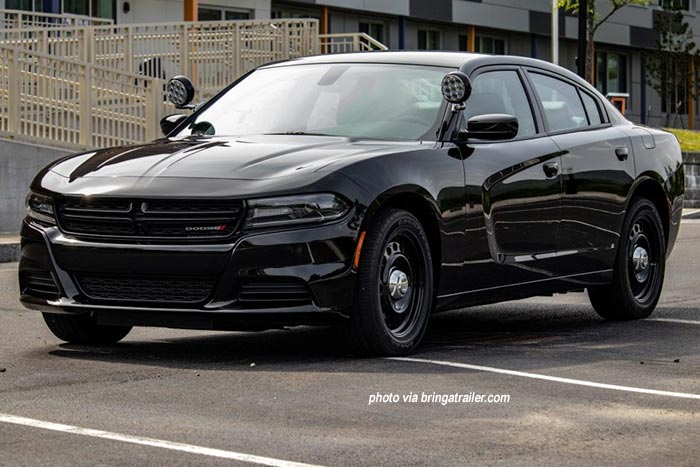 The current bid is under $17,000.
The car itself was owned by Fiat Chrysler and used for marketing; it was sold at auction in January 2023, moved to Corning, New York in February, and put up for sale quite recently. The power comes from a V6 engine, but it does have an oil cooler, police spec steel wheels, LED spotlights, ballistic front door panels, steel setback inserts, and numerous electronic geegaws. The car is selling without a reserve and comes with no fewer than eight remote keys.
Inside, other than the vinyl floor coverings and handles for the spotlights, it looks much like any other Charger—that is, any other Charger with a 12.1 inch touch screen in the center (though when not equipped with police gear, only the usual 8.4 inches are lit up, so chances are the buyer will have the equivalent of an 8.4 screen).  This is one of the eight-speeds, so it should have decent acceleration to go with the better-than-usual handling and a stunningly stiff yet bouncy ride. Countering that are cheap seats, the possibility of pricey insurance due to the cost of some of the parts, and difficult to replace electronic components which were specific to pursuit cars. In addition, the car may draw the wrong attention from other motorists—and the police themselves.
The car comes off auction mid-day, July 20. Place your bids! (Last price check, 10:23 am: $21,000)