If you missed your chance to order a 2023 Dodge Challenger SRT Demon 170 in the exterior color of your choice, you happen to have a whole lot of disposable income and you want to spend a bunch of that disposable income on a 1,025-horsepower muscle car in the custom color of your choice – you are in luck. This weekend, the silver 2023 Dodge Challenger SRT Demon 170 that debuted earlier this year will roll across the Barrett Jackson Las Vegas Auction block and the proceeds will go to an amazing charity, but bidders won't be vying to win the silver Mopar muscle car on stage. Instead, the winner of the auction for this particular Demon 170 will get to pick a custom exterior color – making this a true one-of-one.
"Providing a platform for awareness and charitable dollars has long been a foundational pillar for Barrett-Jackson," said Craig Jackson, chairman and CEO of Barrett-Jackson. "To date, we've helped raise more than $153 million for hundreds of deserving charities and their incredibly important initiatives over the years, and we've done so with many of the most desirable automobiles crossing the block. This charity auction represents a rare opportunity for enthusiasts to take ownership of Dodge's final 'Last Call' model while also providing much needed support for American youth suffering from abuse. We're proud to continue our charitable endeavors with the auction of this historic vehicle."
This charity auction focuses on the 2023 Dodge Challenger SRT Demon 170, but this charitable effort is not being organized by the Dodge brand or Stellantis. The car being auctioned off is being donated by a man named Alan Potamkin. Potamkin is the co-chairman of the Potamkin Automotive Group, which includes Planet Dodge in Miami, Florida, and after Potamkin ordered one of the dealerships allocations, he earmarked that vehicle for this charity auction. Potamkin is also the President of the Kristi House board charity – a group which provides help to victims of child abuse and child traffic in addition to working to help eradicate these forms of abuse in the future.
"I am deeply grateful to Barrett-Jackson for working with me to make this happen for Kristi House," Potamkin said. "Kristi House is dedicated to healing child victims while also fighting to bring the perpetrators of these heinous crimes to justice in coordination with local police, the State Attorney and the court system. As primary therapist and case coordinator for 2,000 cases annually, all services are done at no cost to the families. Along with an amazing vehicle, the buyer will have the immense satisfaction of knowing they are helping to eradicate a scourge in our society that forever robs children of their innocence."
As mentioned above, while Dodge has provided one of the silver Demon 170 debut cars, the winning bidder won't be taking home the car that is on the Barrett Jackson stage this weekend. That car is simply a placeholder since the actual car being bid on has not yet been built. The fact that the Demon 170 being bid on does not yet exist is what brings us to the key component of this charity auction. The winning bidder can select any exterior color from the PPG OEM Factory Finish color, so this one-of-one Dodge Challenger SRT Demon 170 could end up any automotive paint offered by PPG.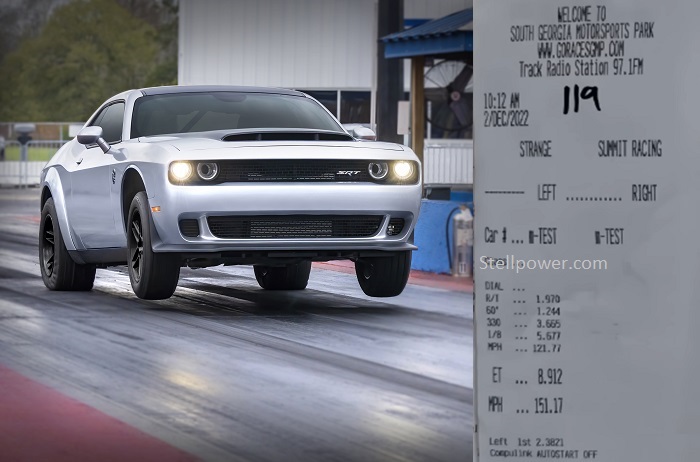 We have seen examples of the 2023 Dodge Challenger SRT Demon 170 being sold online for a quarter of a million dollars over MSRP, and that is just for a car that comes in one of the standard factory colors. If there are buyers who are willing to pay $350,000 for a Demon 170 that is identical to a bunch of other production units, it seems reasonable to expect the winner of this charity auction to pay upwards of a half-million dollars. While this is not the very first or very last Demon 170 built, the combination of the one-off exterior color, the level of difficulty in finding one for sale and the fact that the proceeds go to an amazing charity could cause the bidder to head up towards the million-dollar mark – which is very possible based on past charity auction results.
Click here to read more about the charity auction for this Demon 170 and about the charity itself on Dodge Garage.