Last week, we were the first to break the news that the first wave of 2023 Dodge Challenger SRT Demon 170 units had been loaded onto trucks en route to dealerships. Today, we bring you the first look at the window sticker for the 1,025-horsepower Mopar muscle car.
This sticker was provided to a friend named Tom Taylor, who is eagerly awaiting the arrival of his Demon 170 in Sublime. In the meantime, he has already gotten a copy of his window sticker. He shared it with me and said that I was free to share it with the community.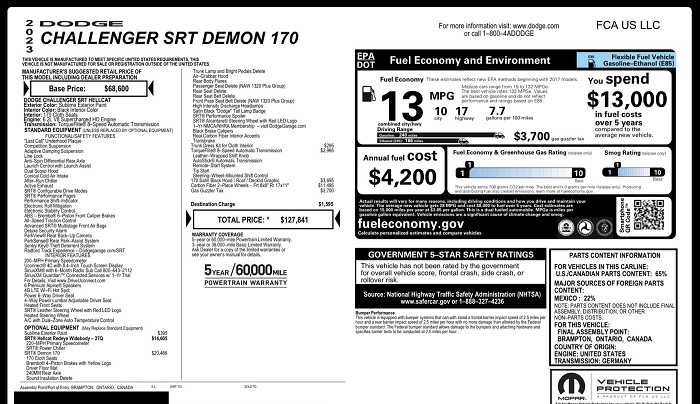 Breaking Down Demon 170 Pricing
As you can see in the sticker above and the close-up of the pricing below, the 2023 Dodge Challenger SRT Demon 170 technically has a base price of $68,600, since it is technically an SRT Hellcat with special packages. The first is SRT Hellcat Redeye Widebody package, which adds $14,605 to the bottom line; while the SRT Demon 170 package adds another $20,466. The 8-speed automatic is standard with the 170 but not the base Hellcat, adding another $2,995, while Gas Guzzler Tax and Destination Charge add $3,700 and $1,595, respectively.
Tom has ordered his Sublime 2023 Dodge Challenger SRT Demon 170 with the black cloth interior with the single-seat layout and no sunroof, but he has added the Trunk Dress Kit ($295), the satin black graphic that covers the hood, roof and deck lid ($3,695), and the two-piece carbon fiber wheels ($11,495). The close-up shot of the pricing also provides a good look at the other features of Tom's SRT Demon 170, for those interested in what all comes with this beast.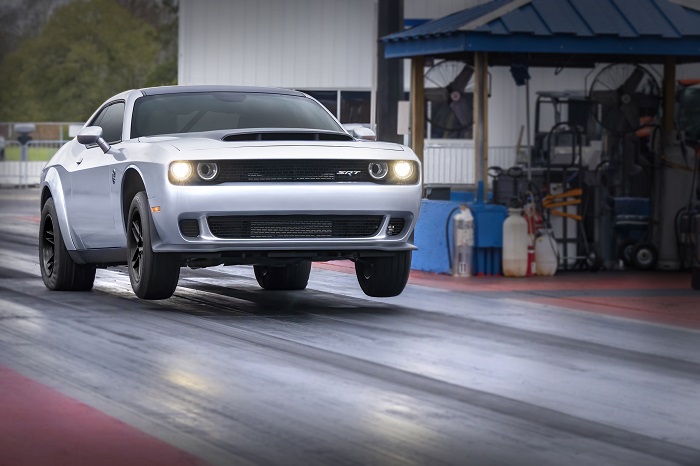 In total, the MSRP of this 2023 Dodge Challenger SRT Demon 170 is $127,841. We also learn that this Challenger, even with over a thousand horsepower, is still rated at 10 miles per gallon around town and 17 on the highway when running on premium gasoline. Of course, to get full power, owners will have to run E85 ethanol, which costs less, but yields lesser fuel economy – but we are pretty sure that no Demon 170 owners will ever complain about miles per gallon.
A big thanks to Tom for sharing his 2023 Dodge Challenger SRT Demon 170 window sticker!