The first batch of 2023 Dodge Challenger SRT Demon 170s are being delivered right now and as people who bought them to enjoy rather than to flip are starting to share pictures and videos of their 1,025-horsepower muscle car in the real world. One of those Demon 170 owners is Ariel Soltura, who has shared a bunch of pictures and videos of his new Dodge Challenger running errands and making hard pulls on the open road.
While it is exciting to watch Dodge's videos of the Challenger SRT Demon 170 in action, their B-roll type footage is often edited so we don't necessarily get the "real world sounds". Of course, we all got to see the Demon 170 in action in Vegas at the introduction, but with all of the crown noise, music and pyrotechnics, it was hard to really get a good sample of the supercharged Hemi at work.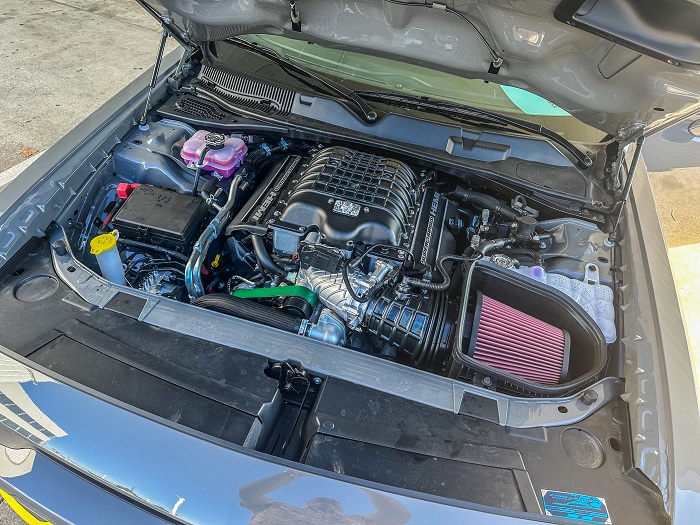 Fortunately, Ariel Soltura posted a short video to the 2023 Dodge Challenger SRT Demon 170 group on Facebook of his new Mopar muscle car making a short, hard pull without any sort of background noise and the roar of the most powerful American production ever is nothing short of awe-inspiring.
[The video has been taken down from Facebook but remains on Instagram – sorry about the odd embedding below. Soltura did give us an alternative which we're working on getting posted.]
[The alternate video should appear below "soon."]
The above video is just 6 seconds long, but for any fan of modern Dodge performance, 6 seconds is all that is needed to sample to sound of the alcohol-injected Hemi. Soltura starts off in the distance, rolling slowly at first, then hammering the throttle and making a hard pull past the camera. As the car comes towards the camera, we get a mix of blower whine and exhaust roar and as the Challenger blasts past the camera, we get a better sample of the exhaust note as the Demon 170 tears off into the distance.
"I've owned many fast cars before this Demon 170," said Soltura. "This one isn't just fast, it's like Dodge somehow managed to corral the speed of light in car!"
We are sure to see more and more real world Demon 170 action videos, including some at the track, but right now, Ariel Soltura has provided us with the best example thus far. He also has a ton of pictures of him picking up his 170 from the dealership, getting security devices installed, running daily errands and more videos, all of which you can check out on his Instagram account by clicking here.