According to Brazilian publication Autos Segredos, which posted this rendering, a medium-sized pickup dubbed Rampage is set to do battle with the Toyota Hilux (Tacoma) and other pickups. It will, they claim, share a unibody structure with the SUSW Jeep Renegade an Compass, and to have a conventional opening. The name "Rampage" has not been confirmed by Ram, but Autos said it was the correct moniker.
The photo above is a rendering based on the spy shots and teaser images.
The truck will reportedly use the Toro's independent rear suspension, upgraded to carry more weight, with rear disc brakes for the same reason. The basic powertrain is to be the 2.0 diesel (170 hp) with a nine-speed automatic and all wheel drive; an optional 260 hp 2.0 turbo engine will be available after launch. Since Brazil has used sugar-based ethanol as a primary fuel, the 2.0 turbo will be adapted for ethanol in time (though not at first).
Ram did confirm the new pickup, which will not be sold in the United States, but will be carried throughout South America. Designed in conjunction with Auburn Hills, it is official enough for Ram teaser images such as the one below: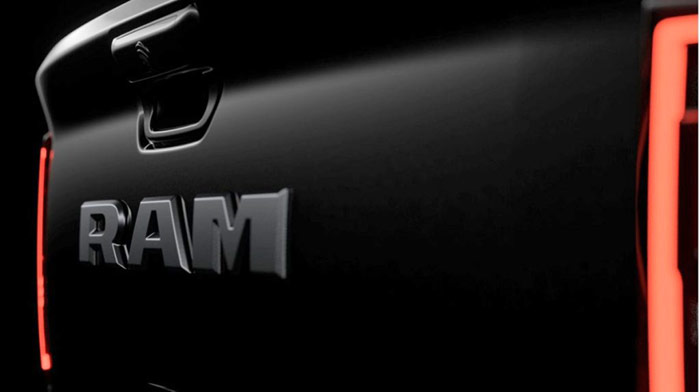 Ram's traditional Big Horn, Laramie, and Rebel trim will be used with this line.
This is likely meant to replace the Ram 1200, a Mitsubishi L200 renamed with Ram and Fiat (Fullback) labels, since Mitsubishi chose to align with Toyota rather than FCA or STLA.