Analysis. In 2025-26, Mopars will have access to a variety of gasoline, hybrid, and electric powertrains. Where should they put them?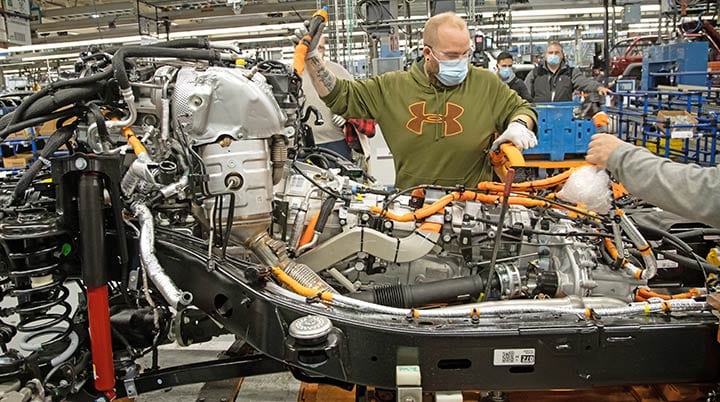 Chrysler would probably be a better marque for EVs than Dodge, especially in terms of pricing. Even with the performance aspect taken into account, a Chrysler 300R would be in a better position to tackle cars such as the Tesla Model S Plaid or the Lucid Air than, say, a Dodge Charger. My rationale:
The EV market has sorted itself into two fairly distinct established sides. There is the premium market, dominated by Tesla but also including Lucid, Rivian, BMW, Jaguar, Audi, and such; and then there is the basic market pioneered by the Chevy Bolt and Nissan Leaf, which now has the Volt, Equinox, some Volkswagens, and other daily drivers, some of which are fast but which are mostly just commuter cars.
Now, it's good to see Dodge expanding with the Hornet; they need more volume sellers in the heart of the market, but the muscle car crowd, at least for now, seems to be insisting on gasoline power. They also want V8s, but most of all, they want gasoline. We can see how that will continue after they move to STLA Large, but first let's refresh our knowledge of Mopar powertrains (from motales.com):
| Old | HP | Torque | New | HP | Torque |
| --- | --- | --- | --- | --- | --- |
| 2.4 | 184 | 177 | 1.3T | 177 | 200 |
| 3.6 | 305 | 269 | 1.3H | 288 | 383 |
| ↑ | ↑ | ↑ | 2.0T | 268-270 | 295 |
| 2.4+3.6 | ↑ | ↑ | 1.6T | 180-300? | TBD |
| 5.7 | 395 | 410 | 2T/H | 375 | 470 |
| ↑ | ↑ | ↑ | 3.0T | 420 | 468 |
| 3.0D | 240 | 420 | 2.0H | 375 | 470 |
| 6.4 | 485 | 475 | 3.0T | 510 | 500 |
| 6.2S | 797 | 707 | 3.0T/H? | TBD | TBD |
There are three candidates for entry-level power in the future Charger and/or Challenger, or any midsize cars or crossovers Dodge may have up its sleeves. The 1.3 hybrid generates power that easily beats the Pentastar. The 2.0 turbo is a better replacement, with a bit less horsepower but more torque than the Pentastar. And there's a new-to-North-America Peugeot 1.6 turbo hybrid, but it's not likely meant for one of these new Dodges. The Pentastar is a remarkably good engine, but we don't expect it to be in a new-generation car (and not only because all the other engines are in-liners; fuel economy is a major issue now).
As for the 5.7 Hemi: the in-line six-cylinder Hurricane engine easily blasts the old "Apache" 5.7 out of the water; but so does the 2.0 turbo-hybrid (also recently retrofitted with the Hurricane name) now sold by Jeep as the 4xe, with the gas mileage of a V6. The 4xe has the advantage of substantially better mileage than the 10% savings gained from the Hurricane Six.
That brings up an interesting marketing move. The "Tornado" 2.0 GME engine was never actually listed by that name in public; it was a project name. The Hurricane project name was actually attached to the engine, and now FCA US is using the name to refer to the 2.0—it's dubbed the "Hurricane4" when sold by Dodge.
The two real Hurricanes make 420 hp (468 lb-ft), above the 5.7 Hemi, and 510 hp (500 lb-ft), ahead of the 6.4/392's already-impressive 485 hp (485 lb-ft). 
What about the Hellcat? There are two possibilities here. One is adapting Demon 170 technology to the Hurricane; it's likely going to be part of the HurriCrate engine estimated to break 1,000 hp, albeit without emissions controls. The other is hybrid technology—and a big electric motor can do quite a bit for instant-on power.
Direct Connection could adapt to these better than to already-optimized engines such as the Pentastar with upgrades such as intakes, intercoolers, blowoff valves, and such, as well as their usual suspension, brakes, and chassis tuning items.
Renaming the GME 2.0 "Hurricane4" suggests that more performance cars in the smaller-than-Charger class are on the way. Dodge is already using the GLH moniker and reviving Hornet from AMC, so I wouldn't be shocked to see a Dart Demon, Gremlin X, Omni GLH or even the return of a Neon SRT, powered by the 1.3L Turbo hybrid with added performance right from the factory. If the GLH is coming back, perhaps the GLHS will as well; and the Shadow or Lancer (if Mitsubishi's ever done with it) or Daytona, for that matter. People are finally starting to see these four-cylinder turbo cars in a better light.
Chrysler has already announced its decision—it's going heavily into BEVs. This may result in Dodge using BEVs for top performance, and Chrysler using them for midrange and lower performance; and perhaps Dodge selling PHEV versions of cars that Chrysler builds as pure BEVs.
Jeep is the volume seller for Stellantis North America, other than pickups. Jeep could drop down to four engine choices for its mainstream vehicles (all but Wagoneer):
Model
Engine Choices
Compass
1.3 H or 2.0 4xe
Cherokee
2.0T or 2.0 4xe
Grand Cherokee
2.0 4xe
Hurricane 420
Hurricane 510
Wrangler
Gladiator
2.0 4xe
1.3 H or 2.0T
For the Compass and Cherokee, the 1.3H provides better-than-V6 power, plus a 30 hp boost when "push to pass" is used. The 2.0 4xe provides performance better than the 5.7 V8, more than enough for the vast majority of buyers. An entry level 2.0 turbo option would reduce the price quite a bit while still providing far better power than the old 2.4 did.  (The 2005 Charger R/T only had 340 hp and 387 lb-ft of torque; the 1.3 Hybrid, when the temporary boost is enabled, is 320 hp and 383 lb-ft in a lighter vehicle.)
The Wrangler and Grand Cherokee already have a 4xe option which is substantially more powerful than the V6; indeed, the only real issue is that this is really more power than it needs. The 1.3 turbo is not strong enough, but the 1.3 turbo hybrid might be better. The 2.0 turbo is also possible, with its 270 and 295 lb-ft roughly equivalent to the Pentastar Six. Finally, the Grand Cherokee could start with the 4xe, currently optional, and carry Hurricanes for the equivalent of standard and high performance V8s, but with a 10% efficiency gain.
Ram 1500 is likely to follow the Grand Cherokee, while the ProMaster may well move to the Peugeot 1.6 turbo; or something else entirely. It's hard to predict since consumer issues aren't quite as key in commercial vans. There will definitely be a battery-electric Ram 1500 and ProMaster, and Grand Cherokee is likely to join that crowd eventually.
We also haven't brought up the hydrogen fuel cell option. Peugeot, before joining with Fiat Chrysler, had already launched a dual-energy platform setup. They can build the same vehicles with either batteries or fuel cells at the same plant. This provides more flexibility; when hydrogen is easier to get, which is likely to come quite suddenly as solar and wind generators are adapted to create hydrogen during off-peak times, we could quite possibly see a flood of hydrogen fuel cell vehicles from the Mopar marques, Toyota, Mercedes, General Motors, and anyone else invested in hydrogen.
This all ignored the flood of new product expected for Dodge, Chrysler, and possibly Jeep and Ram, from the midsize pickup to competitive mainstream compact crossovers. Over 25 BEVs are planned for US production by 2030; STLA Large is likely to spawn a new crossover as well as a coupe and sedan for both Dodge and Chrysler, and is likely to provide us with a replacement minivan as well. Indeed, a wide range of STLA Large vehicles are due—and STLA Medium has hardly been discussed—not to mention STLA Small (though these are likely to be powered entirely by four-cylinders, making at least part of the equation easier).
2025 and 2026 will be exciting model years.