Early rumors claimed that the Ram Rampage to be made in Brazil used a heavy-duty version of the Fiat Toro's independent rear suspension with rear disc brakes, a front wheel drive based chassis and powertrain (2-liter diesel or 260 hp 2-liter turbo gasoline engine, both coupled to a nine-speed automatic) and eventually take ethanol, since Brazil relies on sugar-based ethanol.
[humix url="https://stellpower.com/humix/video/K1ij5lblsPu" float="0″ autoplay="1″ loop="0″]
Current rumors from North American media seem to be claiming it's based on the Ram 1500. Ram did show American dealers a midsized pickup for U.S. sale, but this might be completely different from the Brazilian pickup. If it is indeed based on the Ram 1500, the current powertrain rumors make no sense, since the nine-speed automatic is for front-drive architectures and Ram 1500 is rear drive. It seems likely that we're looking at two different pickups.
The Rampage shown here is to be made in Brazil; Ram officials already said it will not be sold in the United States, but will be carried throughout South America. It was designed in conjunction with Auburn Hills, and was official enough for Ram teaser images such as the one below:
Ram's traditional Big Horn, Laramie, and Rebel trim will be used with this line, which is likely a first step to replacing the Ram 1200, a Mitsubishi L200 renamed with Ram and Fiat (Fullback) labels, since Mitsubishi chose to align with Toyota rather than FCA or STLA.
A Rampage has been seen under testing in the US. There are two possible explanations—first being that Stellantis has quite extensive testing facilities in the US, and second being that perhaps a different pickup, or even a different version of the same pickup, is being considered for US sale.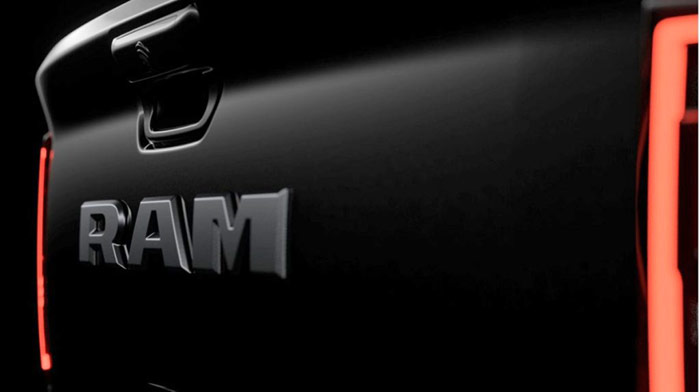 It's easy for different rumors to be confused with each other, and Ram is indeed known to be working on something for the United States. It probably isn't the truck we're seeing for Brazil, though. That would not be the first time something like this has been done; the Jeep Grand Commander for China and the Jeep Meridian for India have roughly similar shapes and sizes, but are built on different platforms.