The annual Roadkill Nights Powered by Dodge had a new location and a new layout for 2023, but the winners of four of the five racing classes have won their respective class in past years. Only the Direct Connection Grudge Match saw a first time winner, but in both the Big Tire and Small Tire classes – including the Quickest Dodge in each class – the winners have won at Roadkill Nights in Detroit before.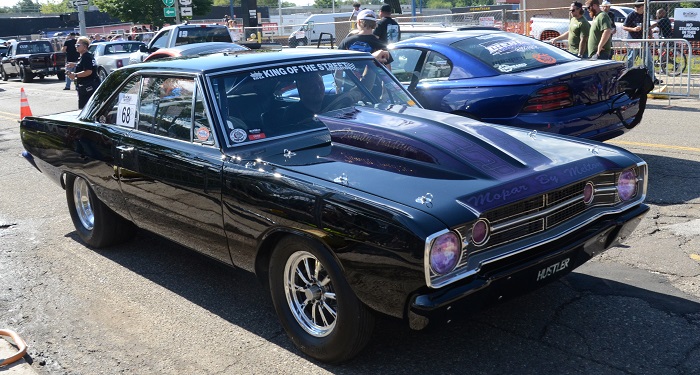 Unfortunately, non-Dodge products dominated the Big Tire and Small Tire classes at Roadkill Nights 2023. The winner of the Quickest Big Tire Dodge was Lenny Melton (above) while the winner of the Quickest Small Tire Dodge was Peter Bokedon (below). Neither of them were quick enough to qualify for the Quick 8 shootout in Big Tire or Small Tire, but they each took home $5,000 for being the quickest Dodge in their classes.
For Melton and his 1968 Dart, this was his third Quickest Dodge title at Roadkill Nights, having previous won in 2017 and 2022. As for Bokedon and his 1972 Dart, this is his fifth straight Quickest Dodge Small Tire win at Roadkill Nights.
In the Big Tire finals at Roadkill Nights 2023, Joe Barry and his 1956 Chevy took on Jimmer Kline in his son's 1966 Pontiac Acadian (above). Kline has won previously in his 1966 GTO, but this year, he drove Jimmer Jr.'s Acadian to victory over Barry's crazy-quick Chevy.
In the Small Tire finals, Mikael Borggren and his monstrous 1987 Volvo wagon (with LS power) beat Adam Wright's 2001 Camaro. Borggren's Volvo is all over social media, as it is pretty unusual seeing an insanely quick Volvo wagon that can be driven on the street and still run 6-second quarter mile times. I don't know anything about Wright's Camaro, but I know that the Volvo is one of the quickest street cars in the world, so it came as little surprise to see him win this class for the second year in a row.
Finally, in the Direct Connection Grudge Match group, the final round saw the Team Corruppt Plymouth Barracuda going head-to-head with the Dodge Viper of Team Throtl. These two cars were both in the Grudge Match field last year, except this year, they both swapped from a manual to an automatic transmission – in addition to swapping for a rookie drive with the new mentor-rookie program.
The Redeye-powered Team Corruppt Barracuda – built by Tony Arme (who drove the car last year) and drive by Kayla Rundle – took the win in a great race against the Redeye-powered Viper. You can watch that final run in the video below.