Speculation. Recently, I argued that the North American arm of Stellantis could be successful using STLA Large and Frame for just about all its vehicles; and we know that most of STLA Small is destined for lands outside of North America. That still leaves us with the STLA Medium platform/architecture, which is likely to spawn the next-generation Compass. 
STLA Medium, according to Stellantis, stretches from 2700mm to 2900mm (106.3″ to 114.2″)—about 16 feet long—and can handle a wheel and tire package with an outside diameter of about 29″ to 30″. It is a FWD based platform, with optional AWD; its BEVs will handle up to 400V and a peak full-BEV  output of around 385 hp.
With the changing demands for EVs, the full BEV focus is likely to center around Chrysler for the time being, while Dodge and Jeep will continue to put most of their focus on hybrid powertrains. Chrysler announced its intention to go all-BEV last year, but it may have second thoughts depending on its technologies and the market as a whole.
The first two cars that Dodge might compete with, to me, are the Acura TLX Type S sedan and the Acura MDX Type S SUV. These have a wheelbase of around 113″ and generate around 355 hp with their turbocharged V6 engines, or 272 hp with lower engines. There are bigger-selling, more mundane cars in this class—the  Kia K5 GT (290 hp), the Camry TRD (310 hp), and so on.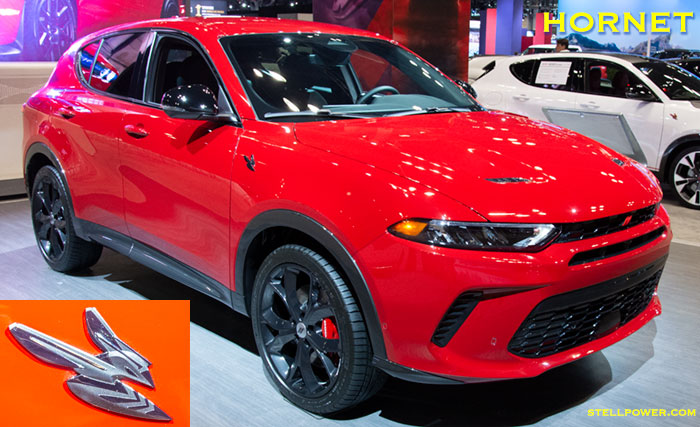 The 288 hp 1.3-hybrid of the Hornet R/T, with 383 lb-ft of torque, would be competitive with entry level FWD-based performance cars, with the economy benefit of running on EV power for short trips. However, with Dodge being a performance brand, they would need to overpower the Acura Type-S cars to rule the FWD performance car roost. Using the Hornet R/T's hybrid setup with the GT's 2.0 engine, which produces 268 hp on its own, could result in over 420 hp—that's with the 44 hp starter motor and 121 hp rear EV motor. Its 479 lb-ft of torque (184lb-ft torque from EV motors) would put it in direct competition with the 3.0L Hurricane Standard Output Twin Turbo, but with better economy and taking up less underhood space.
There's the tempting thought of using Hurricane Six engines with the 4xe hybrid system, with the hybrid system from the Jeep 4xe system—that has adds 134 hp and 198 lb-ft from the transmission motor and 44 hp from the starter-generator. Together, they would be good for 598 hp and 666 lb-ft of torque, while the High Output could reach 685 hp and 698 lb-ft of torque—coming close to Hellcats. However… while that would make for one of the fastest factory production FWD based vehicles ever produced… it's unlikely. The engine is far too long, and it seems unlikely they could simply use a motor setup from a 2.0 engine with the 3.0, especially moving from rear-drive basis to front-drive. 
A 433 hp AWD hybrid powertrain would certainly live up to the (Omni) GLH moniker, not to mention SRT, but it would be a decent "if gas prices go up" proposition from the ability to drive to work under full EV power. The same goes for any Hurricane-6 hybrids on STLA Large or Frame, which are far more likely to see the light of day. 
While this would be awesome for Dodge, Chrysler and Jeep don't need this kind of insanity. The 1.3L Hybrid and the regular 2.0L Turbo would suffice, along with the full BEVsetups.
Chrysler could resurrect cars like the Chrysler Laser, as a sporty BEV, or a Jeep Eagle Rallye, as a BEV crossover in the vein of the Toyota Crown and Subaru Solterra. A new XJ-style Renegade could appear as a "Wrangler-lite" to supplement the actual Wrangler and reinforce the brand at a time when it is under attack by Bronco and Scout.  Jeep and Chrysler aren't all-out performance brands, freeing them from the need to dominate in raw power numbers.
Chrysler needs a way to reinvent the minivan and escape from the "soccer mom" image. Dodge need flood every market with a muscle car option. STLA Medium  could help to bring affordable muscle back, more SRT4 than SRT8. It takes less to get quick quarter miles in a lighter, front-drive-based car, with a properly tuned chassis and AWD—as anyone who cared to race an Omni GLH or Spirit R/T found out, back in the day. The AWD and electric-motor instant torque would be enough to outpace many a V8, not even including any Direct Connection upgrades—in a vehicle that could seat five, with a decent cargo area, reasonable gas mileage, and snow-friendly drivetrain. it would have practicality, performance, and affordability while not forcing FCA US to pay Tesla for CAFE credits.
To me, that's how you bring back the pony car.  Purists might be mad at first, but give this formula to Chrysler for a four-door fastback dubbed the Cuda Formula S, with as much of the styling of the '67-69 Barracuda fastbacks as they could get away with, and Chrysler could have a nice little Mustang beater with a bit of luxury to go along with a modern-retro '67 inspired Dodge Dart GTS. That would silence many of the today's critics and open new markets for the more mainstream commuter cars that sell in the hundreds of thousands.