The Ram 1500 TRX is an incredible machine, serving as the most powerful production truck ever. With 702 horsepower, it has already been proven to run well into the low-12-second range in stock form, even though it rides on huge off-road tires that are the furthest thing from proper drag racing rubber.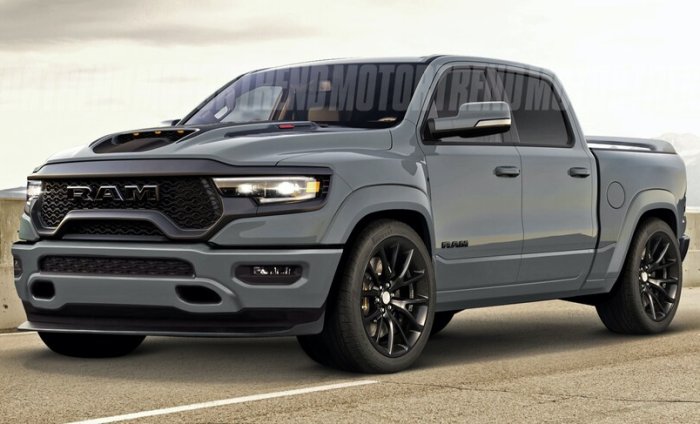 That is why many Mopar enthusiasts are praying for the Ram brand to introduce a Hellcat-powered street truck, similar to the old SRT-10. However, rather than Viper power, the modern on-road performance truck would feature the supercharged Hemi. The problem is that the industry hasn't seen a proper on-road performance truck since the SRT-10 and Ford F-150 Lightning left their respective lineups. Brand analysts claim that there isn't enough demand for a high performance on-road truck while sales of the Raptor and TRX are soaring.
Fortunately, the crew from Motor Trend rendered a Ram 1500 TRX in street form and it looks to be exactly what so many of us want to see in our local showrooms.
Motor Trend TRX Street Truck
Motor Trend turned to skilled automotive artist Abimelec Arellano to create the Ram 1500 TRX street truck shown above. Compared to the production TRX, the key changes are the monotone paint scheme, the Hellcat-style wheels wrapped in low profile rubber and a lowered ride height. It also has a chin spoiler and a wing similar to the one featured on the SRT-10 Ram 1500, creating the on-road performance truck look.
The SRT-10 Ram 1500 with the Viper V10 was a rear-drive truck, but Motor Trend discusses this truck as having a similar all-wheel-drive system to the one used in the Jeep Grand Cherokee Trackhawk or the Dodge Durango SRT Hellcat. With these sticky, low profile tires and the SUV AWD system, this truck would almost certainly be an 11-second machine right out of the box. It would also offer excellent handling, as the current TRX handles well with its tall ride height, but a lowered truck with good street tires would make this truck a blast to take through the twisties.
This is only a rendering, but with any luck, the folks at the Ram Truck brand will see this and take into account the many people who are dreaming of buying a TRX-based on-road performance truck. Click here for a look at the truck from the rear, along with the Motor Trend idea of what is under the skin.
Image: Motor Trend