Jeep® Performance Parts group has unveiled new half doors for the 2021 Jeep Gladiator, developed jointly by Jeep and Mopar. The factory-tested, warranty-protected half-door options have provide security and occupant protection, according to Mopar; their lower window ledges increase visibility, key for off-roading.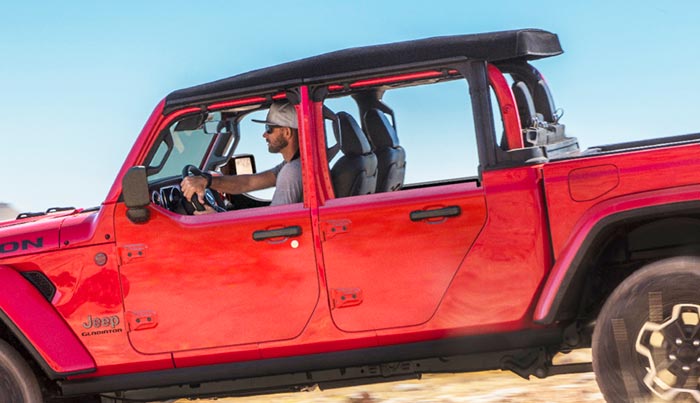 The factory will install the doors through the Mopar Custom Shop when Gladiators are purchased new; they are lightweight and match the body color, working with the vehicle's existing power mirrors, blind-spot detection, entry handles, and power locks. The doors can be swapped to full doors within minutes, using the same hinge and wiring connections.
New upper-window assemblies create a weather-tight seal, with zippered, removable plastic windows. Materials are base-model vinyl to match the production soft-top roof, or  acrylic that matches the premium soft-top roof. The door frames include tool-free dual-guide posts for easy installation and removal.
Factory pricing includes both the normal full doors and the half doors. The base design is sales code AJB and lists at $4,590. The optional assemblies are code AJS, and run for $4,990. Both are covered by the Gladiator's normal new 3/36 warranty.