For the past few years, the Dodge Challenger SRT Hellcat campaigned by the Epling Family race team has held the record for the world's quickest and fastest Hellcat car in the quarter mile. Most recently, the Epling "007" Challenger ran a stunning 7.33 at 186 miles per hour to once again reset their own world record, but on Monday, September 13th, a somewhat new name climbed to the top of the list of the world's quickest Hellcat cars…and that name is Grumpy Cat.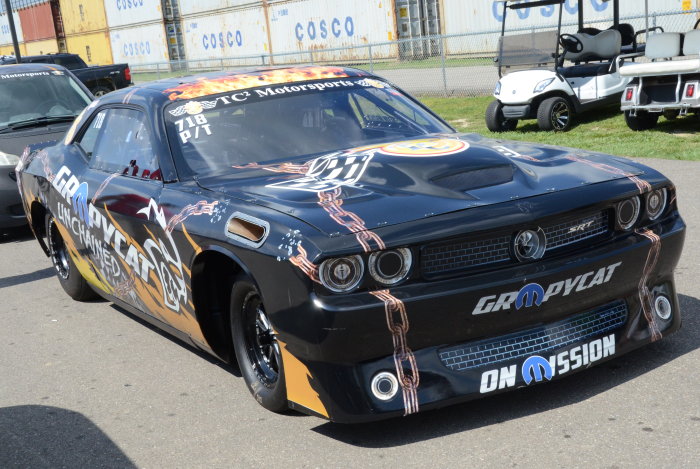 Grumpy Cat is the name given to the Dodge Challenger SRT Hellcat of Kevin Helmick and over the past year or so, he has been working hard to dial-in this heavily modified Mopar muscle car. We say that this car is "somewhat new", because Helmick first raced this car in production form before transforming it into the beast shown here and since the race-ready transformation, Helmick has been close to the Epling record, even claiming the record only to have the Eplings take their record back later that day. However, all of the work and dedication that went into this Challenger paid off yesterday afternoon when Helmick laid down the quickest quarter mile elapsed time by any vehicle to come from the factory with a Hellcat Hemi by a substantial margin.
While racing at Virginia Motorsports Park, Helmick and the Grumpy Cat Dodge Challenger ran a mind-blowing 7.07 at 184.98 miles per hour, making this the quickest Hellcat car in the world. Of course, with this Challenger coming from the factory with 707 horsepower, it is particularly fitting that Helmick would claim the record with an E.T. of 7.07.
You can watch that record-setting run in the video at the bottom of this piece, but first, let's take a look at what went into putting this Dodge Challenger into the 7.0 quarter mile range.
The Grumpy Cat Challenger Hellcat
As you can surely tell from the images here, this Dodge Challenger SRT Hellcat is very different from the way that it came from the factory. In fact, just about everything has been changed, but when you are looking to get a muscle car that originally had 707 horsepower and a curb weight of more than two tons in the low-7-second range, you are obviously going to have to make lots of changes. That being said, this car began its life as a run-of-the-mill Dodge Challenger, but today, it is a race-ready record-holder.
There is so much to go through with this car that we have chosen to list the features by category for easier reading.
First, the people and businesses involved with this build:
Owner/Driver- TC2 Motorsports- Kevin Helmick
Fabricator: Brazzel Performance Fabrication- Jason Brazzel
Engine: Demon Performance-Sujal Patel and TKM- Kevin Mullins
Tuner: TKM- The Kevin Mullins
Crew Chief- Bill Quay
Technician- Curtis Creel
Next, the engine details:
426 stroked Gen 3 HEMI
98mm Jose turbo
Diamond pistons
8 Atomizer 850 inj
3 Atomizer 400 inj cold pipe
Winberg crank
Thitek ported heads
GRP rods
Custom ground cam
Victory titanium valves
Manton rocker arms
Trend one piece push rods
Johnson lifters
Waterman 26 GPM Fuel pump
Peterson external oil pump
Milodon oil pan
Holley Dominator EFI ECU system
MSD600
Transmission Details:
ATI big shaft full T400
Moroso pan
Neal Chance converter
Trans brake
M&M shifter
Chassis, body and interior details:
Custom 25.2 chassis
Menscer 4 way adjustable shocks
Strange spindle
Strange carbon fiber brakes in front, aluminum brakes out back
Red River steering rack
Strange Ultrafab 9 with 9.5 pro gear 4.11
PST carbon fiber driveshaft
Davis Technologies VPS, Profiler
Custom 4 link suspension
Dual Stroud pneumatic chutes
Stroud fire suppression system
Cool shirt air system/water system
Smart wire
Weld V-Series front wheels with M/T
Bogart Racing rear with M/T 315 ET Street Pro Drag Radial
(Different wheels shown in some pictures from 2020)
All carbon fiber interior
In short, this Dodge Challenger SRT Hellcat has been fitted with the best of everything, from chassis and interior components to engine and transmission parts. Helmick spent many hours behind the wheel, getting a feel for this beast and on Monday afternoon, it all came together in what would become a legendary, record-setting quarter mile pass.
The New Hellcat Record
In the video below, you can watch as Kevin Helmick pilots the Grumpy Cat Dodge Challenger SRT Hellcat race car down the quarter mile strip of VMP. The first bit of track footage shows the record run, with Helmick running the 7.07 at 184.98 miles per hour. On that run, the Grumpy Cat Challenger pulled an incredible 1.155 60-foot time, getting to the 8th mile marker in just 4.589 seconds and with a speed of 162.7 miles per hour. Of course, on the big end, he stopped the timers with the remarkable 7.07 E.T.
After that first run, the video features an interview with Helmick, followed by a pair of slightly slower 7-second passes  – a 7.19 at 187.23 miles per hour and a 7.13 at 190.14 miles per hour.