The 2021 Modern Street Hemi Shootout ThiTek HEMI'nsanity event was held yesterday at Lapeer International Dragway, north of Detroit. It was a very hot, humid day, but that didn't stop MSHS racers from setting personal bests. Among the competitors who ran their personal best times was Dillon Carter, who laid down a pair of runs with his 2021 Ram 1500 TRX which also set the quarter mile record for the factory-supercharged pickup.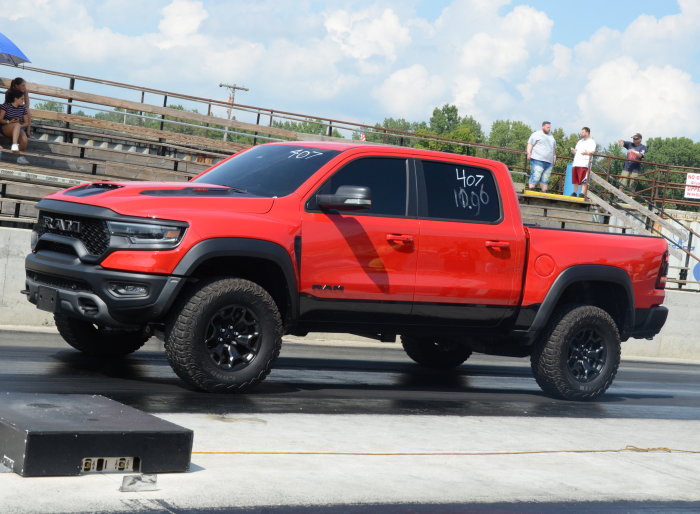 Carter ran a 10.96 followed by a 10.94, beating the previous blower-only record of 10.99 of Billy Weber, set back in July. The key difference between the two is that Weber's 10.99, which was the first laser-measured 10-second quarter mile time by a TRX, is that Carter made his passes on a very hot, humid day with the bright sun beating down on the track and a density altitude number nearing 3,500 feet. I was fortunate enough to attend the event and I had my camera rolling when Carter made his 10.94 run, which you can check out in the video below.
I had a chance to speak with Dillon Carter and he provided the details on his 2021 Ram 1500 TRX. Surprisingly, there isn't a long list of upgrades needed to get this big, heavy off-road truck into the 10s in the summer heat.
Update: We have been told that someone ran a 10.78 with a TRX on nitrous oxide. We don't have any information on that and a Google search turned up no results, so while we look deeper into that, this truck is the quickest blower-only TRX, running without nitrous oxide.
Dillon Carter's TRX
Carter's Ram 1500 TRX has been fitted with a 2.75-inch upper pulley, a 10% lower pulley and ID1050 fuel injectors. The catalytic convertors have been cleared out internally and the ECU has been tuned by High Horse Performance for VP Q16 race gas with trackside tuning assistance from Sumit Goyal. Goyal owns and races an 8-second Hellcat Challenger and in addition to helping with the tuning of this TRX, Goyal went rounds in a black Hellcat Charger, built and tuned by High Horse Performance.
That is the entire list of upgrades. This TRX hit the track on the stock 35-inch off-road tires that had been aired down a bit with the hopes of getting better traction. He just cleaned them off and pulled into the beams – and laid down 10-second passes like it was nothing. It looked like a stock truck, until it lit up the big board with a 10-second ET.
I was shooting still images as well as video and I didn't get the 10.96 run on video, but I did catch the 10.94 run.
The New Blower-Only Record
In the video below, Carter and his bright red Ram 1500 TRX are taking on the modified Hellcat Challenger of Wesley Motorsports. This is the same Wesley Motorsports that campaigns a Dodge vehicle at the Pikes Peak Hill Climb each year, but to show off their versatility and capabilities beyond road racing, they also participate in the Modern Street Hemi Shootout with this Bilstein livery adorned muscle car.
The two were bracket racing, with Carter running on a 10.96 dial, so he got a head start and Wesley had to run him down. However, in running a 10.94, Carter broke out and was subsequently disqualified, giving the Challenger the win.
For those who are interested in the fractions, Carter drove the TRX to the 60-foot mark in just 1.6295 seconds, taking full advantage of the advanced four-wheel-drive system. He got to the 8th mile in 6.99 seconds with a speed of 100.27 miles per hour and on the big end, he stopped the timers with a 10.94 at 122.48 miles per hour. Again, that is on 35-inch off-road tires in 90+ degree weather with high humidity in a truck that weighs more than three tons, and with a relatively short list of upgrades, it is a solid 10-second vehicle in pretty brutal conditions. In better air and at better elevation, this truck will definitely get further into the 10-second range.
In the meantime, enjoy this footage of the record run in the video below.