Stellantis has reported high first-half-of-2021 results, with an 11.4% margin; all segments were profitable.
The following results are listed in euros; currently, €1 = US$1.19.

First, net revenues were €72.6 billion, compared with €19.6 billion one year ago; the net profit was €5.8 billion, vs €797 million in the first half of 2020. Pro format, net profit was €5.9 billion. Adjusted operating income was €8.6 billion. The adjusted operating income margin was 11.4%, well above H1 2020's 1.5%.
Yes, but the Mopars…
North America showed high profits and strong sales; the Jeep Wrangler 4xe was the best selling PHEV in the US for the second quarter, after having gone on sale in March 2021.
Within North America, shipments rose (first half of 2020 vs first half of 2021) from 697,000 to 873,000, with net revenues leaping from €22.8 billion to €32.4 billion; the margin rose from 3.8% to 16.1%.
Even with Peugeot brands in the mix, North America was Stellantis' top market for the first half of 2021; net revenues in the second largest region, EU30, were €32.0 billion, though nearly twice as many vehicles were shipped out (1.7 million).  From there, the largest markets for net revenues were South America (€4.9 billion), Middle East/Africa (€2.5 billion), and Asia-Pacific (€1.9 billion).
Yes, but the rest…
In Europe (EU30), market share rose to 23%—for large commercial vans, 34%. Peugeot was the #2 brand in Europe, with a 7% market share for the first half; the Opel Corsa was the segment leader in Germany and the UK, while Fiat was the market leader in Italy. The 500e was the top electric city car in ten countries.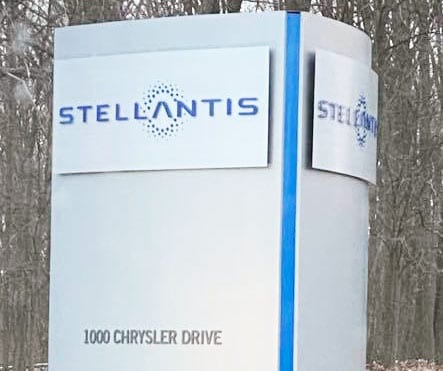 In South America, Stellantis held a 24% share; the Strada was Brazil's top seller. In the Middle East and Africa, market share rose to 11.9%.
Maserati made an adjusted operating income of €29 million, with market share rising in key markets. Sales doubled, from around 5,100 to around 10,800.
Guidance and such
The company expects to see an adjusted operating income margin of around 10% for the full year 2021.
The financial report reiterated the EV strategy, with eleven battery vehicles and ten plug-in hybrids due over the next two years, including a BEV range of large commercial vans in Europe and hydrogen fuel-cell (HEV) medium-sized vans by the end of 2021.
The third battery plant from Europe, which was rumored to be in Italy, will be in Termoli. In the UK, the Ellesmere Port will be converted to Stellantis' first purely BEV factory in late 2022.
New partnerships include Archer to make VTO vehicles and Engie EPS to develop fast-charger networks.