There have been rumors floating around the internet claiming that Dodge is working on one final Hellcat car that will be the most powerful production vehicle to date. Those rumors state that this car will run on E85 ethanol-gasoline blend, but these rumors are being spread by the same people who insisted that there was a new 426 Hemi coming for production road car use a few years back. Since these rumors often prove to be untrue, we reached out to our contacts around the industry and found some interesting information on what is likely the "swan song car" for the current generation of the Dodge Hellcat cars.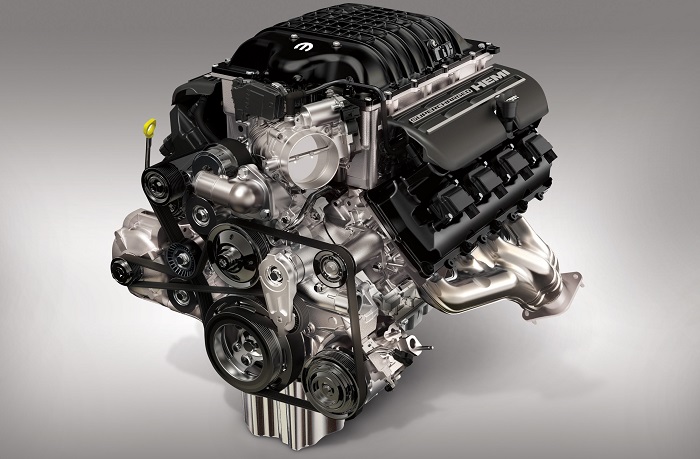 Hellephant 426 Hemi
There have long been rumors that the Hellephant Hemi crate engine would be offered in a production car, but the engineers involved with that program were quick to point out that the 426-cubic inch, 1,000-horsepower Hemi simply wouldn't meet the federal regulations for production road use in a new car, let along emission standards in those states which use California emission rules (CARB). Some of our contacts stated that it is "highly unlikely" that the 426 Hemi would come to production at this point. When those folks say highly unlikely, that usually means that it isn't going to happen, but a few of our contacts pointed out that some features of the Hellephant Hemi could be featured in a final edition Hellcat.
3.0-liter Supercharger
The Hellephant Hemi crate engine is topped by a 3.0-liter IHI supercharger, which plays a key role in that big V8 delivering 1,000 horsepower. The original Hellcat cars rely on a 2.4-liter supercharger while the Demon and Redeye come with a 2.7-liter blower. That added supercharger displacement and unique tuning allow the 6.2-liter engine in the Redeye to make 90 more horsepower than the 6.2-liter in the original Hellcat cars. With the Hellephant engine offering the same 0.3-liter advantage in displacement, it is reasonable to believe that, with proper tuning, a 6.2-liter "Hellcat" Hemi with the Hellephant supercharger would comfortably make up around 900 horsepower.
The key issue with all of these monster horsepower rumors is, of course, regulatory issues relating to fuel economy and emission levels. There is no question that a new supercharged Hemi with even more power than the Redeye will get lesser fuel economy and create more tailpipe emissions. While not a single buyer will care about either of those points, the EPA cares and when the EPA cares about something, they create headaches for the automaker. The current delay for the Direct Connection stage kits is a fine example of the EPA working to restrict power levels in street cars. We also know that in some areas, the 2018 Demon has failed emission testing in stock form, so if the 808-horsepower engine is an emission issue in some places, it seems likely that the same problems would occur with up around 900 horsepower.
That is where the E85 rumors come into play. The upside is that an engine on E85 creates less harmful tailpipe emissions, so it may be more likely to pass emission testing in the toughest states. The downside is that E85 yields substantially lower fuel economy figures. In my experiences with average commuter cars, running on E85 rather than gasoline leads to a drop of about 30% in fuel economy. Again, owners won't care, but a car that has single digit advertised fuel economy numbers will give the critics an easy angle for negative marketing.
So, the bottom line here is that our connections indicate that the Dodge brand is working on one final beast of a muscle car that likely wont have the long rumored 426 Hemi, but it will likely have the biggest production supercharger of any modern Mopar machine. That is all dependent on an engine that is substantially more powerful than the Demon meeting all of the key state and federal emission regulations, which seems like a tough task in some areas, but in the end – Dodge is trying to deliver one more muscle car legend before we are all forced to live in the battery-powered future.