Yesterday, Prime Minister Justin Trudeau, Ontario Premier Doug Ford, and a number of other dignitaries, Stellantis officials, and Unifor union reps unveiled a major investment in Canadian factories and R&D facilities. Together, these will keep thousands of jobs in Canada, adding a number of research positions and restoring, if all goes well, second and third shifts.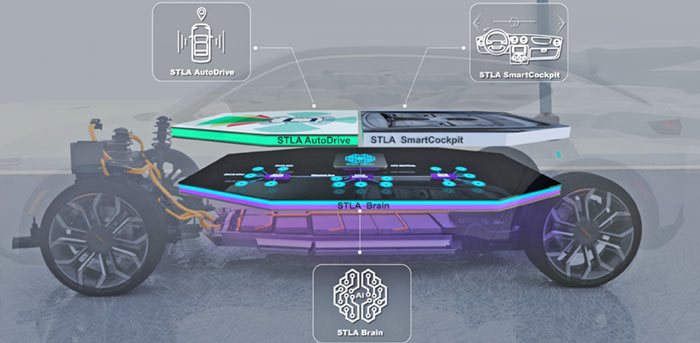 Almost lost in the enormity of the announcement—many pundits had already written off Brampton and were thinking Windsor would be shuttered by 2027 as well—was the fact that a number of new cars were announced as well. There were no specific revelations, but an "all new" platform / architecture was announced—possibly one for each of the two plants.
Brampton, built as Bramalea by AMC in the late 1980s, currently makes the 300, Charger, and Challenger. Its future product is "an all-new, flexible architecture to support the company's electrification plans," according to the press release. One question is whether this is one of the previously announced Small, Medium, Large, and Frame platforms—or something outside the old "platform" definition of specific core dimensions, and more along the lines of the Rivian-fashion "skateboard plus top hat" (a skateboard portion is shown above). This new setup, which hearkens back in some ways to body-on-frame design, uses a common battery-suspension-and-motor assembly with different body shells to create a variety of vehicles at relatively low cost.
At Windsor, a massive plant thanks to numerous enlargements over the years, a brand new pallet system which lifts and lowers cars as they move down the line was installed for Pacifica production; however, this plant will also be "fully modernized" starting in 2024 to make new product in 2025. That will also be "a new multi-energy vehicle (MEV) architecture that will provide battery-electric (BEV) capability for multiple models."
It is even possible that individual plants could be devoted to single brands, so there would again be a Dodge plant and a Chrysler plant—if they are using the same architecture—though that seems unlikely as it would introduce a new expense with no real gain.
Regardless, it appears now that battery-electric vehicles may well provide a means for giving each brand a full lineup of cars at least—without the kind of expense that could otherwise bankrupt the company if one or two bets proved to be wrong.
Meanwhile, the company will continue making gasoline-powered cars and trucks, which are projected to be half of Stellantis' U.S. sales in 2030.