We rarely talk about private vehicle sales, but it is rare that a legitimate low-8-second Dodge Challenger SRT Hellcat Redeye hits the open market. However, that is the case here, as the gorgeous 2019 Challenger Redeye shown here, currently owned and driven by Brian Felter has run 8.0s in the quarter mile and it is available for purchase.
We will point out now that this well sorted machine is not the car for someone shopping on a tight budget – as it comes with a price tag of $135k – but you won't find another Hellcat Challenger that will possibly get you into the 7s for this price.
Challenger Hellcat on the Track
I got to see Brian Felter's 2019 Dodge Challenger SRT Hellcat Redeye in action during Muscle Cars at the Strip earlier this year. Even with traction issues, heavy air and strong winds, he ran an 8.43 at 163 miles per hour. You can watch that run in the video below.
While 8.40s aren't "low 8s", Felter's Hellcat ran an 8.16 at 168 and an 8.09 at 169 earlier this year, while racing with the Legion of Demons crew in Houston. That was with good air and good track prep, and since running that 8.0, Felter has changed the transmission, torque convertor and suspension components. He believes that those changes will allow this Challenger Hellcat Redeye to run in the 7-second range, but for now, the quickest it has gone was 8.09.
The Key Details
This 2019 Dodge Challenger SRT Hellcat Redeye is powered by a factory-based Hemi engine block now measuring 401 cubic inches – up from the stock size of 376 cubic inches – and topped by the latest 3.0-liter Whipple supercharger. That engine features custom Manley i-beam rods, a Callies crankshaft, CP pistons, ThiTek cylinder heads, a custom camshaft, Holley EFI engine management and a long list of supporting modifications needed to move a car like this down the track at almost 170 miles per hour.
Power is sent from that monster Hemi through a TH400 transmission with a Neil Chance torque convertor and Strange axles. A Drag Pak 4-link suspension system helps put the power to the ground, yielding a best 60-foot time of 1.192 seconds.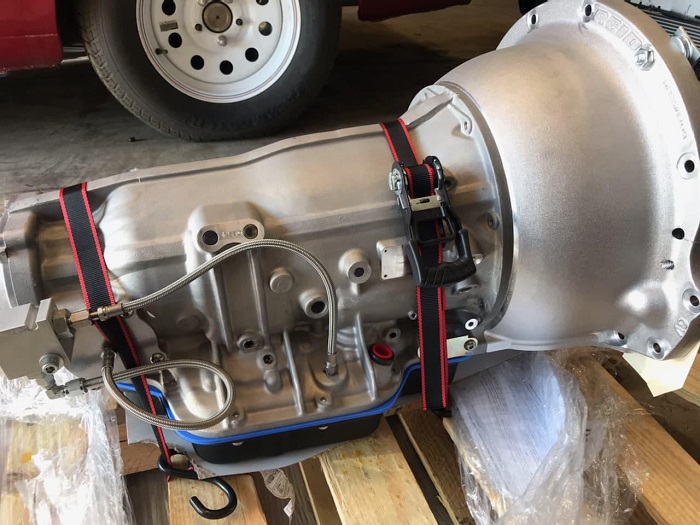 Finally, as you can see in the pictures here, provided by Felter, this 2019 Dodge Challenger SRT Hellcat Redeye features a custom hood, a drag wing, a parachute, wheelie bars, "drag pack" wheels and tires with skinnies up front and a 25.5 SFI safety cage – making this car NHRA legal to run 7.50s.
The interior has also been lightened up to include just the essentials, so you won't find the factory dashboard, seats, carpeting or infotainment system, but you will find the Holley EFI gauge screen, a quick release steering wheel, a custom switch panel, and aftermarket shifter and a race bucket seat.
Not Ideal for Street Use
It is inevitable that some commenter will ask whether this Dodge Challenger SRT Hellcat Redeye could be driven on the street, even though it is clearly built for race use. With that in mind, I asked Felter if it could be driven on the street. He pointed out that it doesn't have proper exterior lighting such as turn signals, but in an area where there are few laws, it could be driven short distances on the street. He estimates that when driven very gently, it might make it 20 miles on a tank of gas.
The key issue with street use is that this Challenger has a 6-gallon fuel cell and it uses around 4 gallons for a single quarter mile pass. All said and done, a drag car probably drives closer to a mile during a quarter mile pass – including driving from the pit stall to the lanes, down the track including the shutdown area and back up the return road to the pit stall.
So this Challenger uses around 4 gallons of gas for a mile of driving, with a hard quarter mile pull in the middle, so anyone looking to buy it to drive on the street will need to drive very gently – or make sure to stay within a mile of a gas station (that sells the right fuel) at all times.
The bottom line here is that it is rare that a Dodge Challenger SRT Hellcat Redeye that is proven to run consistent low-8s in the quarter mile comes up for sale, making this a great chance for someone who is serious about racing to get into a very quick modern Mopar. With a $135,000 asking price, it clearly isn't for everyone, but whoever buys this Challenger will be able to go racing and run big numbers right away – provided that they have the driven skills necessary to handle the car.
Anyone who is interested in buying this car can reach out to Felter at 801-388-1205.