The automotive world is going through a metamorphosis as we move into the EV Era. We are going to see may more electric models from all of the brands, including the Mopars.
Another trend that is quickly rising, especially in the American performance car segment, is adding "sub-brands" using the performance-car names. Ford has the Mach E crossover and GM will have Camaro and Corvette sub-brands, with a crossover Corvette. Dodge has not yet announced something of this nature, though Jeep has a luxury Wagoneer sub-brand.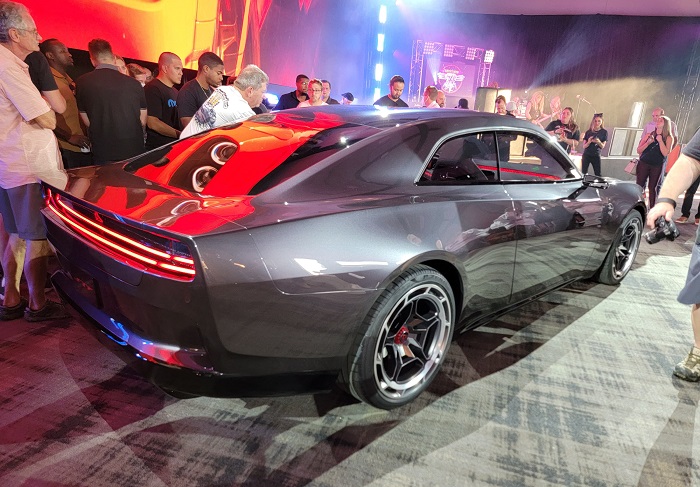 Dodge recently shocked many with the Dodge Charger Daytona SRT Banshee EV concept  at Speed Week, a massive, noisy muscle coupe that received a lot of feedback, both positive and negative, from Mopar enthusiasts and many outside of the Mopar world alike. The big coupe is genuinely a standout in both looks and sound, but it operates in a rapidly shrinking market.
Both coupes and sedans are becoming a thing of the past as crossovers have reshaped the world of transportation. Even genuine sports car brands such as Lamborghini have come out with crossovers. The performance crossover market includes vehicles from BMW, Mercedes, Porsche, Aston Martin, Audi, Jaguar, and others, some of which have coupe versions with sloping roof lines and car-like body styling. During the Banshee's presentation, the spokesperson pointed out that a huge percentage of the market is going to crossovers, which was why the new Banshee has AWD and a hatchback rear for added cargo space. 
While that is a step in the right direction in making the vehicle more useful, the idea of a high performance EV muscle crossover could be a more lucrative, future-proof strategy for Dodge. Stellantis—whether through Dodge or Jeep or Maserati—will have to compete against "SUV coupes" such as the X4M Competition, the X6M Competition, Aston Martin DBX, Porsche Cayenne Coupe, Kia EV6 GT, Lamborghini URUS, and Audi RS Q8.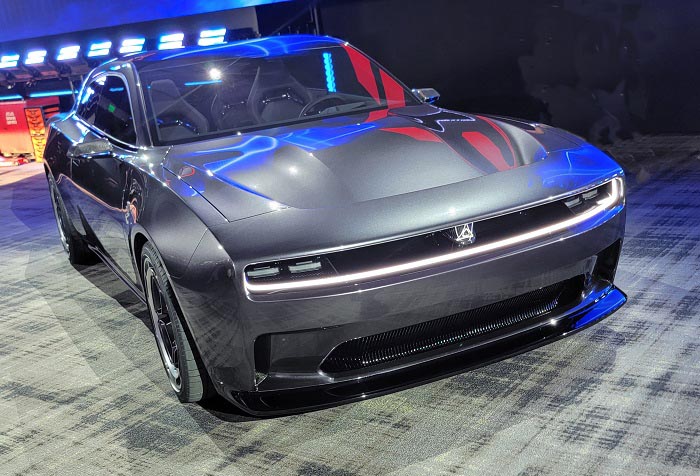 A four-door coupe/crossover Charger that keeps the Coke-bottle shape, fastback roof line, racetrack tail lamps, front "R-Wing," rear spoiler, and Banshee interior (which would make more sense in a crossover, with that full length center console and 2+2 seating) would make the Charger appealing to a larger group of buyers; the fun would go along with practicality that would make more sense in a crossover than a low coupe limited by a low roofline. Since it would still be a Charger, it should be a little larger than the Mach E and roughly around the size of the BMW X6M.
The Charger BEV will have a low center of gravity thanks to the battery packs in the bottom of the vehicle, helping handling. With suspension tricks used on the Widebody series, Direct Connection stage kit support, Jailbreak packages, throwback Mopar colors, and revised "exhaust" sound systems, it could not just surpass the Mack E but perhaps put itself on top of the BEV muscle market. One could even hope for a 1320 trim similar to the Challenger Demon—a street-legal but stripped-down drag car with a 1,320hp powertrain, drag-race suspension tricks, and such, to dethrone the Tesla Plaid and whatever GM has in the works (including their BEV Camaro and Corvette crossovers). Even today, Kia has a 576 hp EV6 GT crossover that stomps on the top Mustang Mach E in stock form (never mind the RTR version with 1400 hp—which has the kind of personality I see for a stock Charger.) 
While some may think that this would be sacrilegious, it wouldn't be the first time Dodge has remade  their iconic Charger—even the 1968 model was a major change from the original "turbine styled" car. From 2006 until now, The Charger has been a four-door sedan—and a huge success, as well as the longest continuous running American performance sedan ever made. 
While some people are awaiting the Hurricane powered sedans and/or coupes, BEVs seem to be the future for top performance. ZF, the designer of Mopar eight-speed automatics, is working on multi-speed gearboxes for BEVs; before long, paddle shifters and sport modes will join electric drivetrains for enthusiasts (and to increase range for the general public).
Dodge can position the Charger into this market—keeping it as a performance vehicle that also functions as a practical daily driver, and can even handle winter weather better than the current AWD models, with higher ground clearance.
Dodge is trying to find a unique place; hence exploring the Fratzonic sound chamber, as an innovative way to conform to BEV sound mandates. The system is still being updated, but when it is finished, it will be the new sound of American performance; and no doubt the aftermarket will be able to supply more options. There are exhaust companies making polyphonic tuning and acoustically tuned applied kinetics, not to mention "Reflective Sound Cancelation." A crossover might provide more space for such systems.
The list of advantages a of muscle BEV crossover over a coupe or sedan continues; but this alone could make a convincing case for the next generation of American muscle to switch from coupes and sedans  to vehicles that can satisfy more needs and wants.