Camp Jeep, a brief but exciting loop outside the Javits Center in Manhattan, has been toughened up quite a bit for the 2022 New York Auto Show. For most of the time since its dawn in 2004, Camp Jeep has been challenging, but still accessible to the non-Rubicon-capable Renegade and Compass. This year, the Jeep Mountain is a full ten feet steeper, offering a better view of Manhattan (if your driver slows at the top)—at an angle of 45°. There are new obstacles, as well, including some very tough breakover challenges.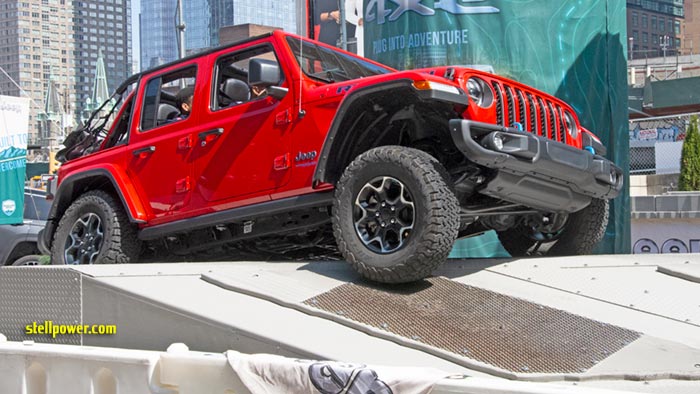 These are the kind of obstacles that can literally break lesser vehicles, if they don't get stuck first.
Most of the vehicles on the course are no surprise—a mix of Wranglers and Gladiators. Nobody is especially surprised to see these taking on the course, even if the Wrangler Rubicon 4xe does it in all-electric mode, in complete silence.
The surprise is seeing the Grand Cherokee L, with its greater length, and the Grand Cherokee 4xe. While we were told the Grand Cherokee was the most capable vehicle to wear the badge, marketing people say many things, and they can't always be taken seriously. In this case, it seems the truth was told.
Jim Morrison, current leader of Jeep, has been in his job long enough to make sure that the Grand Cherokee really was sufficiently capable—and he should know; he's had enough offroad time in his own original ZJ Grand Cherokee to know the difference. A spirited and skilled offroad driver, Morrison seems to have been a good choice to lead Jeep.
Camp Jeep includes a five-foot ground clearance stair climb, 50-foot-long, eight-foot-tall obstacle that forces the Jeeps onto three wheels, Extreme Breakovers on a 25° uneven plane with a sudden shift, and 30° articulation wedge. Camp Jeep riders are automatically put into a $100,000-towards-a-vehicle sweepstakes (hint: Maserati and Wagoneer are the easiest ways to spend all of it). However, riders have to be at least 44 inches tall, and those under 18 must be accompanied by a parent or guardian.
The show opens to the public tomorrow.
A 45° degree climb may not sound like much, but this is what it looks like from inside a Jeep Wrangler Mojave.
The start of the ramp. Note the forward facing camera, which prevents blind spots when cresting hills.
At the top of the hill.
Coming down can be dizzying. These drivers do it all day long.
Another Jeep peeks out.