This morning, Ford Motor Company pulled the sheet back from the long-awaited F-150 Raptor R – the V8-powered pickup that would finally defeat the Ram 1500 TRX. Ford fans were sure that the Raptor R would pack gobs more power than the TRX, since the GT500 engine that was expected to come under the hood offers 760 horsepower in the Mustang.
However, Ford dialed back the output of the supercharged 5.2-liter V8 to "just" 700 horsepower and 640 lb-ft of torque – meaning that with 702 horsepower and 650 lb-ft of torque, the Ram 1500 TRX remains the king of the production performance trucks in terms of power numbers.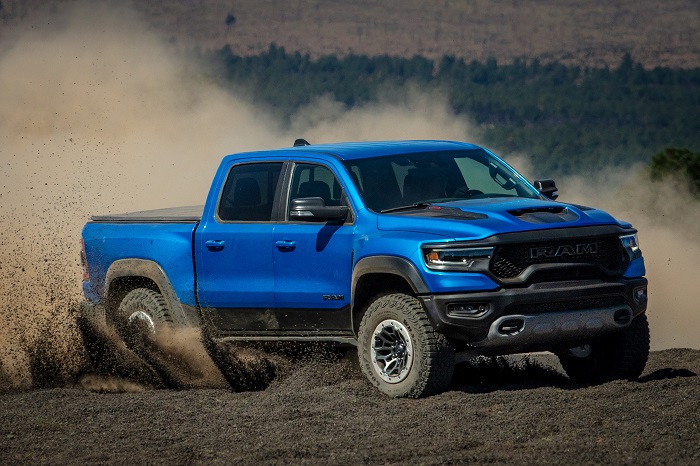 Aside from the engine, the hood and some badging, the Raptor R is very similar to the V6-powered Raptor, including the same 10-speed automatic transmission. There have also been some slight revisions to the suspension to accommodate the extra weight of the V8 engine, but for the most part, the suspension and chassis components have been carried over from the V6 Raptor.
Now for the craziest part. The Ford F-150 Raptor R with 700 horsepower and 640 lb-ft of torque has a price starting – STARTING – at $109,145 before adding any options. The TRX with 702 horsepower and 650 lb-ft of torque starts at $80,685, so the V8 Raptor starts almost $30,000 higher than the TRX. If you add every single option available on the Ram Trucks website to the 2022 TRX, including beadlock wheels, the RamBar, Off-Road running boards, the bed-mounted tire carrier, the panoramic sunroof, premium paint and all of the available graphics packages – the TRX has an MSRP of $106,260. So a fully loaded, fully outfitted TRX will more horsepower and more torque still costs less than a Raptor R.
Ford points out that the Raptor R is 400 pounds lighter than the TRX, so in the right situations, the Ford may have an advantage, but the truck world relies heavily on power-based marketing and when it comes to power-based marketing, the Ram 1500 TRX is still the King of the performance truck world.