The 2023 Jeep Cherokee will have no V6 version, with the 3.2 liter engines made only for that model already out of production. Instead, buyers will have a choice of two models; the Altitude LUX has the old 2.4 liter four-cylinder while the Trailhawk has the new 2.0 liter turbocharged four-cylinder. (An earlier announcement suggested the 2.4 was no longer available in the Cherokee, but that appears to have been reversed.)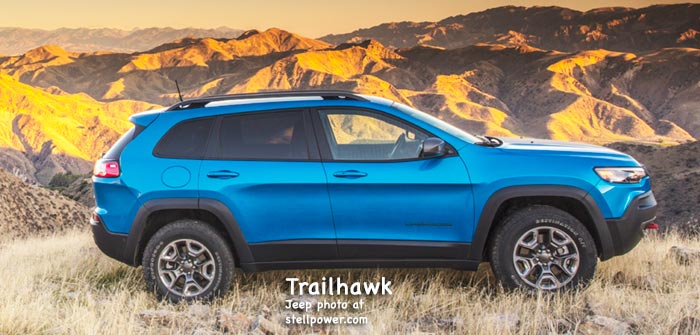 The 2023 Cherokee Altitude LUX 4×4 has 17-inch gloss black wheels, LED lighting, Nappa leather seats, seven-inch gauge display, and heated steering wheel and seats. The Trailhawk now has standard auto high beams, auto-dim rear mirror, alarm, and garage door opener. The Altitude LUX and Trailhawk both had price increases for 2023; production ends at the close of February 2023.
The 2.4 engine is rated at 180 hp/171 lb-ft; the 2.0, at 270 hp and 295 lb-ft, beating the old 3.2 V6. Both have a standard nine-speed automatic with LED headlamps and the latest UConnect systems.
Canadian editions have standard navigation, adaptive cruise, blind spot monitor, rear cross path detection, forward collision warning, lane departure warning, and advanced parking assistance.
All 2023 Cherokees have black interiors, though there is a choice of silver, blue, red, and gray for the exterior; all will be 4x4s.