The Dodge Challenger got off to a slow start in the sales race in 2023, falling behind the Ford Mustang by more than 3,000 units, but after outselling the Mustang in Q2 by more than 2,000 units, the Challenger has come roaring back to lead Q3 sales by over a thousand units – allowing Dodge to pull into the lead into the annual muscle car sales race.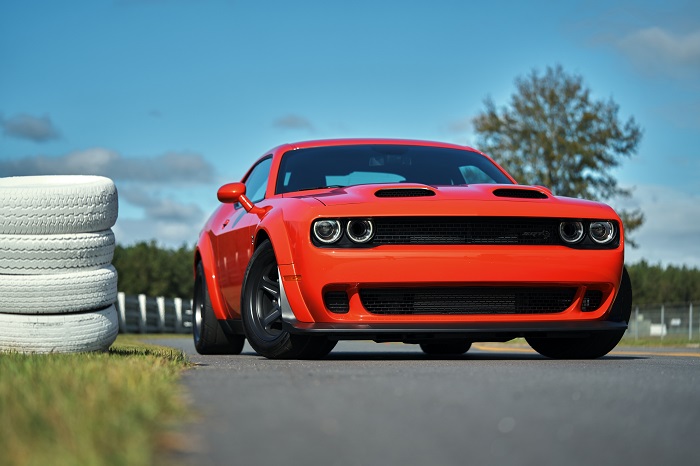 The Dodge Challenger claimed the title of the bestselling muscle car (call them sporty rear-drive coupes if you don't like "muscle car") in 2021 and 2022, and when 2023 being the last year of the generation, the Hemi-powered brand will surely like to make it a three-peat. Things didn't look great after Q1, but in beating the Mustang in Q2 and Q3 – and a substantial backlog of cars on order – Dodge is in good shape to win the title for a third straight year.
In the third quarter of 2023, Dodge sold 11,075 examples of the Challenger. That number is down quite a bit from the third quarter of 2022 (16,412) and down almost 2,000 units from the Q2 of 2023, which is odd, seeing as how Q3 has traditionally been a strong quarter for the Challenger. However, with Ford selling just 9,844 Mustangs and Chevrolet selling only 7,351 Camaros during the months of July, August and September, the Challenger was once again the bestselling car in the segment by a solid margin.
More importantly, by beating the Mustang in Q2 and Q3, the Challenger has now pulled ahead in the annual sales race. After the third quarter, Dodge has reported sales of 35,350 Challengers while Ford has reported 35,315 Mustangs sold, so the margin is very narrow, but the Hemi-powered coupe has pulled into the lead. Over the past few years, Ford and Dodge have gone back and forth in leading Q4 sales, so with Dodge ahead by just 35 units, the annual race is far from over. Fortunately, we know that Dodge has yet to deliver the vast majority of the 3,000 Demon 170s destined for American owners, in addition to the rest of the 2023 model year Challengers on order by customers and dealerships. The biggest question here is whether the current labor dispute between the UAW and the Big 3 automakers will impact the production of any of these performance-minded models in the next few months.
For those wondering, Chevrolet has sold 24,688 Camaros this year, so the bowtie-clad two-door is all-but-guaranteed to finish in the third spot in the annual sales race. Like the Challenger, 2023 is slated to be the final year for the Camaro, but unlike Dodge, Chevy isn't really doing anything to drive sales of the final model year.