We knew that the seventh and final Last Call special edition car would be more than an appearance package, but the 2023 Dodge Challenger SRT Demon 170 is more performance than we expected for less money than we expected. There is loads of information to unpack on this model, but we will cut to the chase and talk about the numbers that everyone really cares about.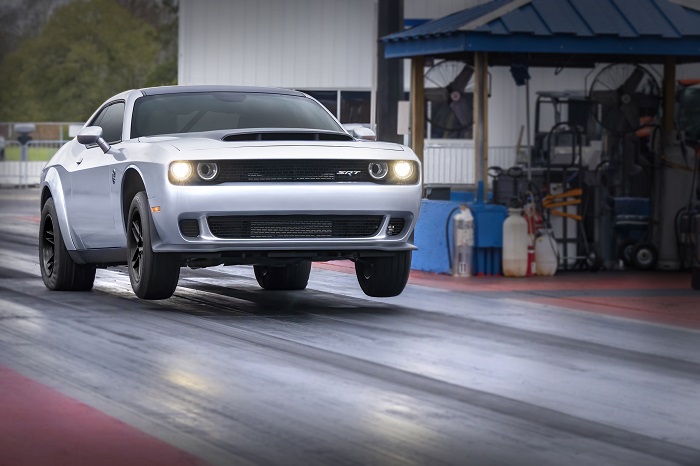 The 2023 Dodge Challenger SRT Demon 170 is powered by a 6.2-liter Hemi topped by a 3.0-liter IHI supercharger. When running on E85 (85% ethanol), it makes 1,025 horsepower and 945 lb-ft of torque. Even on 93 octane pump gas (E10 ethanol), the Demon 170 will make 900 horsepower and 810 lb-ft of torque. The driver doesn't need to do anything when changing from gasoline to ethanol blends.
There is no special computer to install: from the factory, the Demon 170 will run on anything between 93-octane gasoline and E85, with the computer adjusting on the fly for the fuel detected. The engine computer monitors the level of ethanol in the system; when it finds more than 65% ethanol, all 1,025 horsepower is unlocked without the driver doing anything.
With the standard Mickey Thompson Street ET R drag radial tires, the 2023 Dodge Challenger SRT Demon 170 will sprint from a stop to 60 miles per hour in just 1.66 seconds, with rollout (the method used by Tesla). Even without rollout, Dodge says that the Demon 170 will get to 60 in less than 2 seconds flat.
The NHRA has certified the Demon 170's 8.91 seconds quarter mile run, with a speed of 151.17 miles per hour. For reference, the Tesla Model S Plaid has an official 0-60 time of 1.99 seconds and an official quarter mile time of 9.23 seconds.
"To celebrate the end of the Hemi muscle-car era, we pulled off all the governors to reach a new level, a new benchmark of 'factory-crazy' production car performance," said Tim Kuniskis, Dodge brand chief executive officer – Stellantis. "In 2015, Dodge shocked the world with the 707 horsepower Hellcat. Then in 2018 we did it with the 840 horsepower Demon, and now we are doing it again with the 1,025 horsepower Demon 170, the world's first sustainable-energy, eight-second factory-production, street-legal muscle car."
On a perfect launch, the SRT Demon 170 measures 2.004 Gs of force – the highest recorded by any production road car.
The 2023 Dodge Challenger SRT Demon 170 has a starting price of $96,666 (not including gas guzzler tax or destination fees), which is far less than the rumors suggested. It is also far below any other production road cars that can come close to an 8-second stock quarter mile.
Dodge boss Tim Kuniskis is hoping that the company can build 3,000 for the United States and 300 for Canada- just like the 2018 SRT Demon – debunking bad information being spread by some dealerships, who claimed production numbers would be lower than the Challenger Black Ghost.
While Kuniskis is hoping that the company can build 3,300 units, he acknowledged that production constraints at the end of the year could lead to a lesser number. Regardless, he still believes they can make at least 2,500 Demon 170s.
In short, the 2023 Dodge Challenger SRT Demon 170 is more powerful than we initially expected, quicker than we initially expected, less expensive than we initially expected, and will be made in far larger numbers than we expected (and far more than dealers looking to jack up the price were claiming).
Allocation information is available now via the Dodge Garage Horsepower Locator. Orders are expected to begin on March 27, and production of the Demon 170 is expected to begin in July. Owners of a 2018 Dodge Challenger SRT Demon who secure an allocation for the Demon 170 will be able to order a matching VIN.
As for the what I thought was an evil leprechaun – and what many people thought was a ghoul or a goblin – Dodge explains that it is a Corn Devil. This means that this era of the Challenger will end without the "Ghoul" rumor (originally an April Fool's Day joke) ever being accurate.
We will dive into more of the fine details on the 2023 Dodge Challenger SRT Demon 170 as the week goes on, as there is a great deal of information to unpack with this thousand-horsepower monster and tonight we just wanted to get the key details out to the community.