Harry's U-Pull-It, which has four locations in Pennsylvania, sometimes comes across cars too good to junk—and in this case, they have a neat Chrysler 300, with some rust, up for grabs.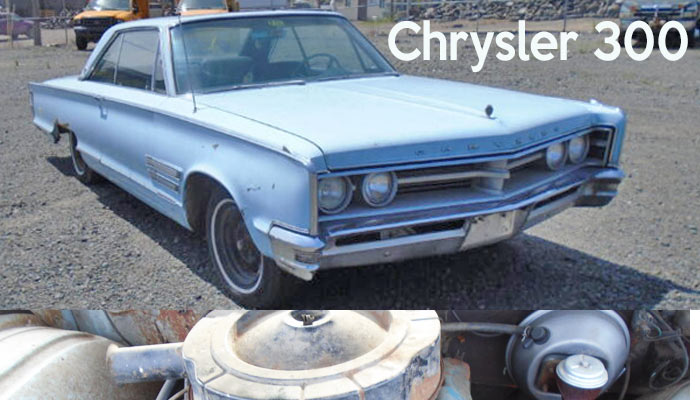 The car has a clean title, an amazingly low 45,401 miles, skirts, caps, and trim, and a reasonable amount of rust. It needs upholstery repair but it runs and drives.
Harry's is asking $4,000 for it, which is a good price if that really is the actual number of miles on the clock and it really does run and drive well; but the new owner will have to do some rust mitigation under the hood, in the back, and probably elsewhere. Whether it's a bargain or not depends on your perspective. It has the fancy Chrysler dashboards and a V8 engine; but it's not the 300 "letter car" of high-performance luxury fame. Indeed, there was no "letter car" for 1966; the final one was the 1965 Chrysler 300L.
The idea of selling both high-cost, high-performance "letter cars" such as the 300B, 300C, etc. and plain old 300 cars resulted in the 1963 Chrysler 300. It meant that sales rocketed to ten times the previous number, and in 1966 they sold nearly 50,000 Chrysler 300s without any letter car to support them. The 300 used a 383 engine with 10.1:1 compression and a Carter AFB four-barrel to reach 325 hp (gross)—likely around 250-275 hp by today's standards.
For a fine overview of the 1966 Chrysler 300, see Hemmings. To buy this car, see Harry's.