The Wagoneer's first recall covers an issue with the upper B-pillar interior trim, which, if it was not seated properly, could interfere with side airbag deployment. This affects 2022-23 Wagoneers and Grand Wagoneers made through to June 7, 2022, when the vehicle assembly process was changed.  The component was made by Century Plastics, but the problem is an assembly issue. The dealer will inspect the interior trim pieces, replace any that are loose or broken, and reseat them if needed.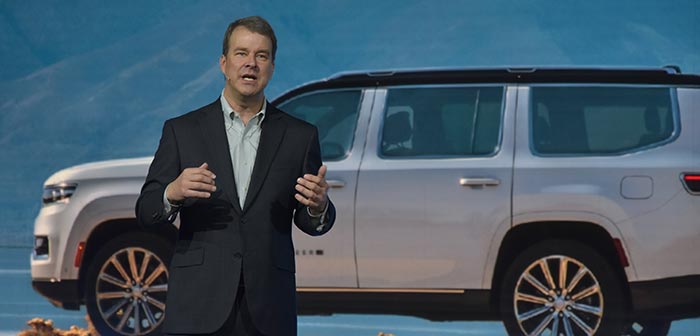 The company thinks that 15% of around 50,000 of the big, luxurious Jeeps are affected.
In other news, the U.S. government is investigating over a million 2013-16 Ram pickups. Around 380 owners have reported loss of power steering; the latest was a 2014 Ram 1500 with 118,000 miles. So far there have been no injuries but three possible crashes.  These Rams have electrical power steering, which has generally been more reliable than hydraulic power steering.
Photo: Jeep leader Jim Morrison launching the Grand Wagoneer (Stellpower.com photo)