Tina Boggess and her white Dodge Durango SRT Hellcat have held the title of the world's quickest Durango Hellcat, but this past weekend at Kentucky Dragway, Boggess became the first Durango Hellcat owner to break into the 8-second range. Boggess and her supercharged Dodge SUV known as the "MomCar", ran an 8.87 at 157.661 and then backed it up with another 8.87 at 157.156. You can watch both of those runs below.
This Dodge Durango SRT Hellcat was built by American Muscle Performance in Florida (and Charleston, West Virginia) and it is powered by a 420-cubic inch Hellcat Hemi from Demon Performance/TKM. In addition to the extra engine volume, this engine is fitted with stronger internals, a set of ThiTek ported cylinder heads,  Koods headers, a Legmaker cold air intake, a factory-style 2.7-liter supercharger with a SDG Motorsports Hellephant Killer Snout and Xtreme Billet Bearing Plate, a Fore Innovations fuel system and a Nitrous Outlet nitrous oxide system. Tuning is provided by Brent Hughes of DTP Racing and this beast runs on VP Racing Fuels X98.
The power from Boggess' blown Dodge Durango is sent to all four wheels by means of a factory transmission and transfer case which have been upgraded by Sipple Speed and Performance while a Per4Mance Development differential brace and G Force axles provide some extra durability. Mickey Thompson drag radials put the power to the ground, and those tires are the only indication (other than some decals) that this Durango SRT Hellcat might not be stock.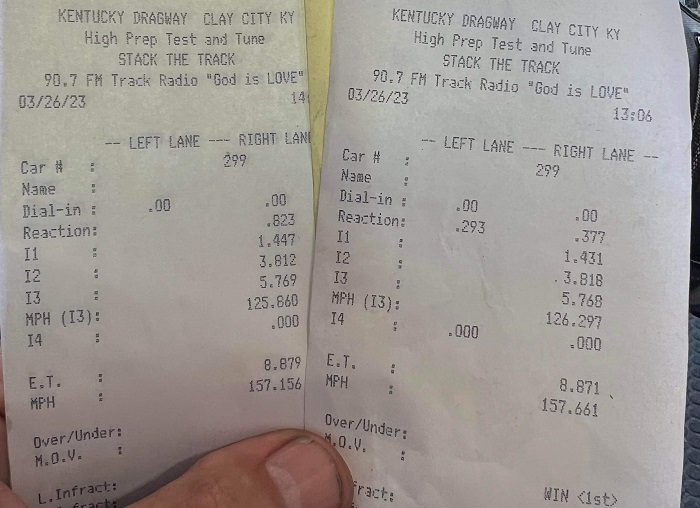 For those who do not know, Boggess originally set the quarter mile record for the Dodge Durango SRT Hellcat by running in the 9.0-range with a similar list of upgrades, but with the factory displacement. She likely could have gotten into the 8s with a bit more tuning and seat time with 6.2-liters, but in jumping to the bigger engine, she also jumped way down into the 8s.
Congratulations to Tina Boggess and the team at American Muscle Performance for being the first to put a Dodge Durango SRT Hellcat in the 8s!