This year marks the end of the current generation of the Dodge Challenger and Dodge Charger, including the beloved SRT Hellcat models. In many places, the rush for the final examples of the current supercharged Hemi cars has led to massive dealer markups, and generally speaking, finding a 2023 Hellcat car for MSRP is a good deal these days. However, one Michigan Dodge dealership currently has four 2023 Dodge Challenger SRT Hellcat units on their showroom floor and they are available under MSRP.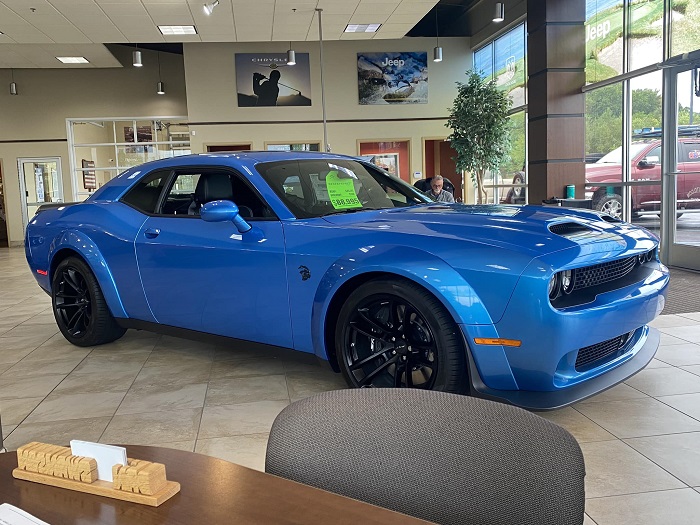 You read that right – 2023 Dodge Challenger SRT Hellcats under MSRP.
Some people online will argue that is has become impossible to find anything with a supercharged Hellcat Hemi without paying a big additional dealer markup (ADM), and in some areas, that is true. In many areas, the dealers that are offering "good deals" are staying at MSRP and for much of this year, finding a price under MSRP – comparable to what would have been common a few years back – has become practically impossible. That is why I am writing this piece, as there might be others around the country, but across most of my social media groups, MSRP and higher is common and below MSRP is something that deserves some positive attention. Also, this could help someone in the community find a car in their price range, without any big markup or headache. You just have to get to Battle Creek, Michigan to buy the car.
I found out about this when I saw a Facebook post by Dan Swanson, sales and finance rep for Henkel Chrysler Dodge Jeep Ram in Battle Creek. He posted a picture from his desk showing a gorgeous B5 Blue 2023 Dodge Challenger SRT Hellcat Widebody with an MSRP of $89,741 and a "Henkel price" of $88,995. That is just a touch below MSRP, but in a time when most prices include markup, that is a great price. A short time later, Swanson posted three 2023 Dodge Challenger SRT Hellcat (narrow body) cars; one in TorRed, one in Triple Nickel and one in White Knuckle. The white and red cars have discounts of over a thousand dollars from MSRP and the silver (gray?) car is discounted over $3,000.
Just to be clear, I am not saying that this is the only dealership in the country selling below MSRP, nor am I saying that these are the best prices available – but they might be. I have not seen any dealerships advertising cars discounted this much, so while they might be out there, they are hard to find. Henkel Chrysler Dodge Jeep Ram has Hellcat Challengers in four different colors and they are all available below MSRP.
Click here to visit Dan Swanson's Facebook wall, where you will find more information on these cars and his contact details.